MVRDV Presents… 130 Ideas for Rooftops
Heavy rainfall, heat islands, city stress and pollution have become a familiar experience for city dwellers. As the challenges are piling up, we have to seek our solutions higher up. In this week of Rooftop Residency we explore new ways of unlocking the roofscape. The newly-released Rooftop Catalogue by architects MVRDV highlights 130 ways to use rooftops in cities. The book provides an overview of innovative ideas aiming to inspire architects, citizens and building owners to take the next step.
At the initiative of the City of Rotterdam, MVRDV developed a catalogue in collaboration with the Rotterdamse Dakendagen. The book is filled to the brim with ideas and shows how roofs can provide a new spatial infrastructure that contributes to the energy transition, climate adaptation, quality of life, densification and inclusivity. There is a lot of unused potential on top of our cities as roofs cover as much as 15-35% of the total urban land area, but only 2% of the rooftops are in use. In short, a resource that is too valuable to be neglected.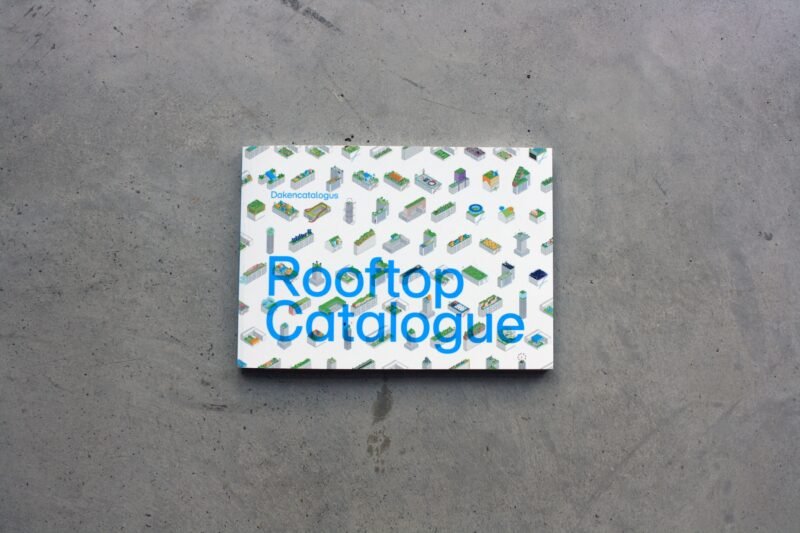 The catalogue uses a few principles based on building typologies, types of roofs, the UN Sustainable Development Goals and the urban challenges we face. These parameters are translated to icons, providing a clear view of how the different ideas fit within the urban framework.
The ideas vary from simple to complex and from light to heavy interventions. It takes you from butterfly gardens to golf courses and from care centres to cemeteries. It is set up as a cookbook, wherein the parameters are the ingredients. A format that helps in translating the designs and ideas to different contexts and cities.
"With this catalogue, we want to inspire not only individuals but also the big players such as developers and housing corporations to invest in rooftops"

Léon van Geest, Rotterdamse Dakendagen
Rooftop Catalogue addresses legal, financial and functional issues that often come into play when making plans for rooftops. The value of using rooftops is already underlined by successful stories from across the globe, but the main question remains: Who is going to pay? Hopefully, Rooftop Catalogue provides the inspiration to not only think about return on investment but think about social and sustainable value as well. Because there is a lot of room on top of our cities to tackle our urban challenges.
Details
Rooftop Catalogue
Author: MVRDV, Winy Maas, Sanne van Manen
Publisher: Rotterdamse Dakendagen
Publishing date: June 2021
Paperback, Dutch/English, 148 pages
ISBN: 978-90-903-4772-1