Four Creative Policies to Unlock the Urban Roofscape
Heavy rainfall, heat islands, city stress and pollution have become a familiar experience for city dwellers. As the challenges are piling up, we have to seek our solutions higher up. Roofs can contribute to CO2 reduction, water collection, biodiversity, food production, quality of life and tranquillity in a hectic city. But how can cities encourage better use of roofs? We show four examples of creative policies from around the world that are bringing about positive change.
Government-Powered Roof Greenification in Toronto
Policies support the fight against the climate crisis by demanding sustainable solutions. More than 10 years ago, the City of Toronto became the first city in North America to require commercial, institutional, residential and industrial buildings larger than 2,000 square metres to cover between 20-60% of their roofs with green space. Private terraces and renewable energy areas are not included in the total area. If this requirement is not met, the developer must pay for each square metre missing, which supports the Eco-Roof Incentive Program. The City has created an inspiring document with best practices and guidelines for building green roofs.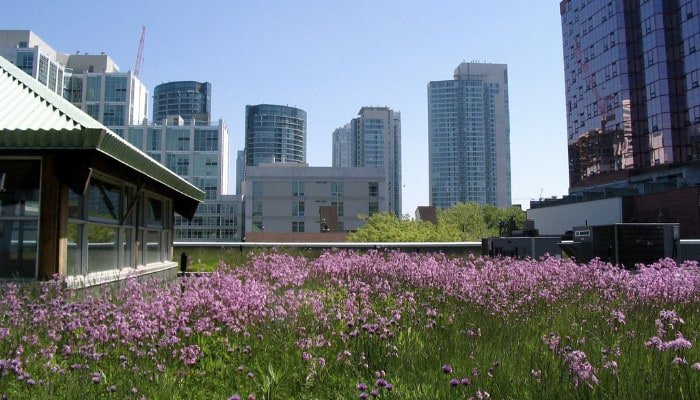 Hamburg's Green Roof Strategy
To achieve an additional 100 hectares of green roofs, Hamburg introduced the Green Roof Strategy programme. It aims to cover up to 40% of the cost of installing green roofs, but no more than €100,000. The conditions are that the installation must be voluntary, the soil layer must be thicker than 12 cm and the roof area must not be less than 20 square metres. The programme is based on four pillars: promotion, dialogue, regulation and science. It was accompanied by an intensive media campaign showing visuals of a green Hamburg and a dialogue with private home and building owners. The universities are studying the effects and implications of creating green crowns. The city intends to incorporate these requirements into master plans for future buildings.
Social Rooftop Gardens in Egypt
Green roofs can take many forms and may even be a source of fresh organic food. In 2019, Egypt's Ministry of Environment announced an initiative to encourage rooftop gardening. It was launched to benefit disadvantaged families in suburban Cairo and Alexandria. The initiative combats climate change and poor air quality, but its main aim is to provide families with healthy food and a stable source of income. The UN Food and Agriculture Organisation has trained 48 families in growing vegetables and plants and using hydroponic systems. The programme offers financial assistance to clear roofs and create agricultural gardens, and NGOs working with the ministry offer technical support.
Mapping Melbourne's Unused Roofs
The City of Melbourne took their mission of developing the city's ceiling to a higher level. With the Rooftop Project maps they didn't only map out the existing development of their roofscape, they also visualized the potential of the unused roofs. They used data on technical possibilities and the carrying capacity to visualize the opportunities for individual buildings. The red, yellow and green dots show that there is a lot of room for improvement.