This Rooftop Pioneer Lives on Top of a Converted Train Line
For about one year, Renée Rooijmans has sensed the elevated experience of living on a rooftop in Rotterdam. As part of Dakdorpen Collectief, she hopes to find new ways of unlocking the potential of urban rooftops for all.
If you're ever in Rotterdam, you should visit Hofbogen. This old train line viaduct and terminus is now an alternative shopping center, offering design, art, food, drinks, music, fashion and more. On the rooftop, a public park was created, which doubles as an event venue. But, it's also a residential rooftop: in the middle of it, there is an 8m2 trailer, originally used as a construction worker canteen, that is now Renée's semi-permanent home.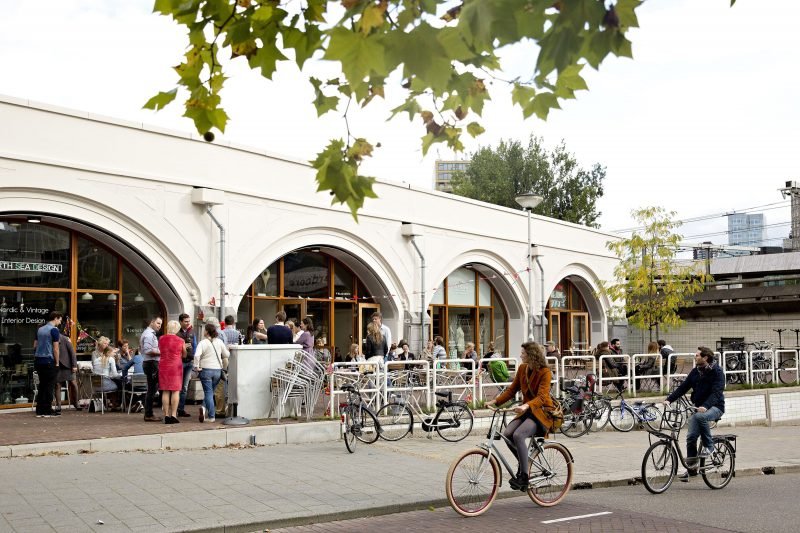 "I was looking for something different, something that was not a house, not the type of house that would think of when thinking of a city house. Basically going beyond what's available.", Renée says. After spending some time in Canada, where she worked on a farm, she returned to the Netherlands where she wanted to find a new way to live in the city. Coincidentally, the local Rooftop Festival was about to take place on the Hofbogen around this time. For the festival, a person was needed to temporarily take care of the roof during the festival. This is how Renée Rooijmans found her current plot.
Of course living on a rooftop comes with some obstacles. Renée's camper is connected to the electricity of the building itself, but currently there is no running water. However, the rooftop itself does have several taps to get some water from. "Since I must collect water I became quite conscious of the amount of water I consume. I shower at the gym nearby. That also means I use the sauna every day, which feels good, but sometimes I want to take shower in another moment and maybe the gym is closed. Anyway, by showering in the gym and using a public laundry service I have learned to find other shared facilities that I have access to.", says Renée.
Today, being in close contact with the sky and nature enchants Renée and after one month living on the rooftop she was sold and started looking for a way to turn this temporary solution into a permanent residence. Renée teamed up with Walden, a local architecture studio that had already conditioned a camper to live in, and two others, forming the Dakdorpen Collectief. Together, Dakdorpen Collectief is exploring the possibility the future of rooftop living while benefiting the city as well.
Dakdorpen Collectief wants to go further with the exploration regarding unlocking rooftops and, in the name of applied research, Renée is willing to find a new plot and give up her new found home. Finding more opportunities and more rooftops to unlock is what moves them as a collectieve. This will certainly require overcoming obstacles and, but Renée Rooijmans and Dakdorpen Collectief are willing to tackle the necessary processes in order to occupy these spaces and make them public.
Photos courtesy of Studio Walden