What Does the Third Place of the Future Look Like?
Hidden within the Hudson Yards in New York, 3DEN is a new type of urban space that combines co-working with a new range of activities and amenities under one roof.
With its name making a connection to the biblical heavenly garden, 3DEN (pronounced "Eden") promises an opportunity to "recharge, work and unwind" within its multi-purpose space. It is advertised as a new third place — a place in between home and work. 3DEN allows you to get away from the overwhelming urban hustle while working, having coffee, taking a shower, meditating, practicing yoga or doing your shopping, all in one area for merely $6 per 30 minutes. It says to be the alternative to the stress of "48 minutes in a noisy hotel lobby, guessing Wi-Fi passwords, hunting for a plug, trying to update the slide before the preso." Or, as Stephanie Maida claims, "an urban escape that feels like a members' club without the whole membership thing."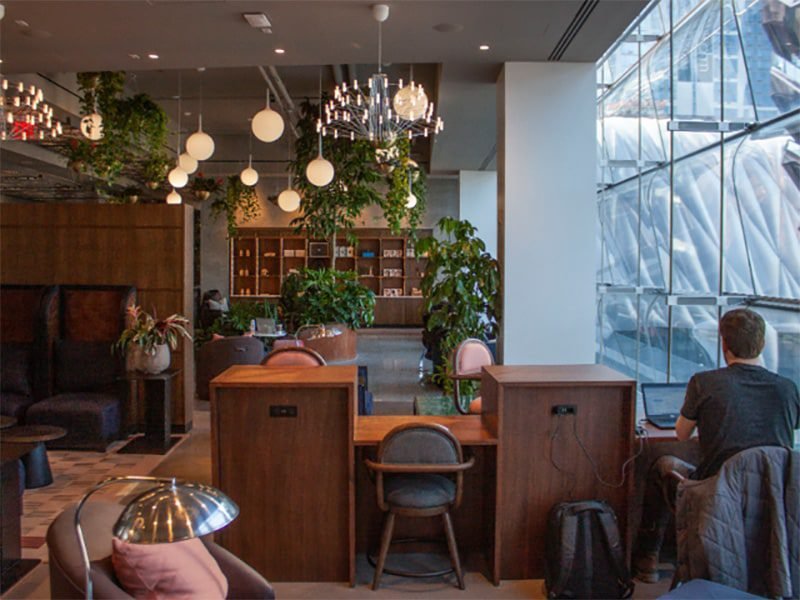 Using their app, you can reserve your desired time at 3DEN, check in and out of the amenities and even see how busy the space is at any given moment. All the information and payments are within your reach on your mobile phone making it easy to plan your day. 3DEN is situated on the fourth floor of Hudson Yards, a huge mall in New York. The entrance is equipped with an iPad which scans your access QR code and lets you into the space which offers a number of different facilities.
3DEN's interior is big and bright with a lot of greenery and stylish modern furniture. Inside, you can find a meditation and yoga room, co-working space with high and low tables for an optimal working experience, bathrooms, showers, soundproof phone booths, free coffee and even nap pods for an instant recharge.
Providing an opportunity to work and relax while not at home or work, but somewhere in between, 3DEN supports a broader trend in which the boundaries between home, work, leisure and even transit are becoming blurrier and blurrier. This past October, we discussed the future interior of Dutch intercity trains that will seamlessly fuse work, leisure and transit. In San Francisco, public transport company Leap is operating commuter buses that look more like coffee bars on wheels.