Waste Currency Motivates Citizens in Amsterdam to Recycle
WASTED is a local initiative in Amsterdam that aims to motivate citizens to recycle their household waste. The startup implemented a neighbourhood currency that rewards recycling with discounts at local businesses. We tried out the step-by-step system and spoke to project manager Sietse Gronheid about WASTED's success.
The WASTED initiative came about after completing a research project on waste streams in Amsterdam. "We found out that many citizens in Amsterdam lack motivation to recycle their plastic, especially in the neighbourhood of Amsterdam-Noord. That led to our decision to develop a convenient solution for citizens to recycle their waste," explains Sietse. Eager to participate, we tested the WASTED project ourselves, by collecting plastic waste from our office and going through the standard process of the recycling program.
The process begins as soon as you sign up on the WASTED website to become a "recycling neighbour". Once you have registered, WASTED trash bags are delivered straight to your front door. It is important to use these bags to separate your household trash, glass, paper, plastic and textiles because they are needed to estimate the amount of waste you are recycling through the program.
Since plastic waste is the problem we need to tackle the most in urban spaces, the Pop-Up City team filled our WASTED trash bag with plastic waste from the office. Sietse draws reference to the overabundance of plastic waste, explaining, "All in all, buying, using and throwing away less waste, in general, is still the most sustainable option, so please don't buy things wrapped in plastic on purpose! We are currently working on a system that will reward people for avoiding plastic packaging in the first place." After your bag is full of trash, you can take it to a public container in your neighbourhood.
The WASTED team is experimenting with their current reward system. Sietse explains, "We started out with real coins to test our reward system. It was very successful and the Amsterdam municipality supported us to scale it up. They are still valid, but in the meantime, we developed a digital currency so people can participate more easily!"
The best thing about the system is that you can instantly get rewarded with just a single bag of recycled trash. We went straight to a local café and exchanged our WASTED coin for a cup of coffee. Most businesses provide a "purchase with" offer, therefore, we paid for a piece of cake and got the cappuccino for free.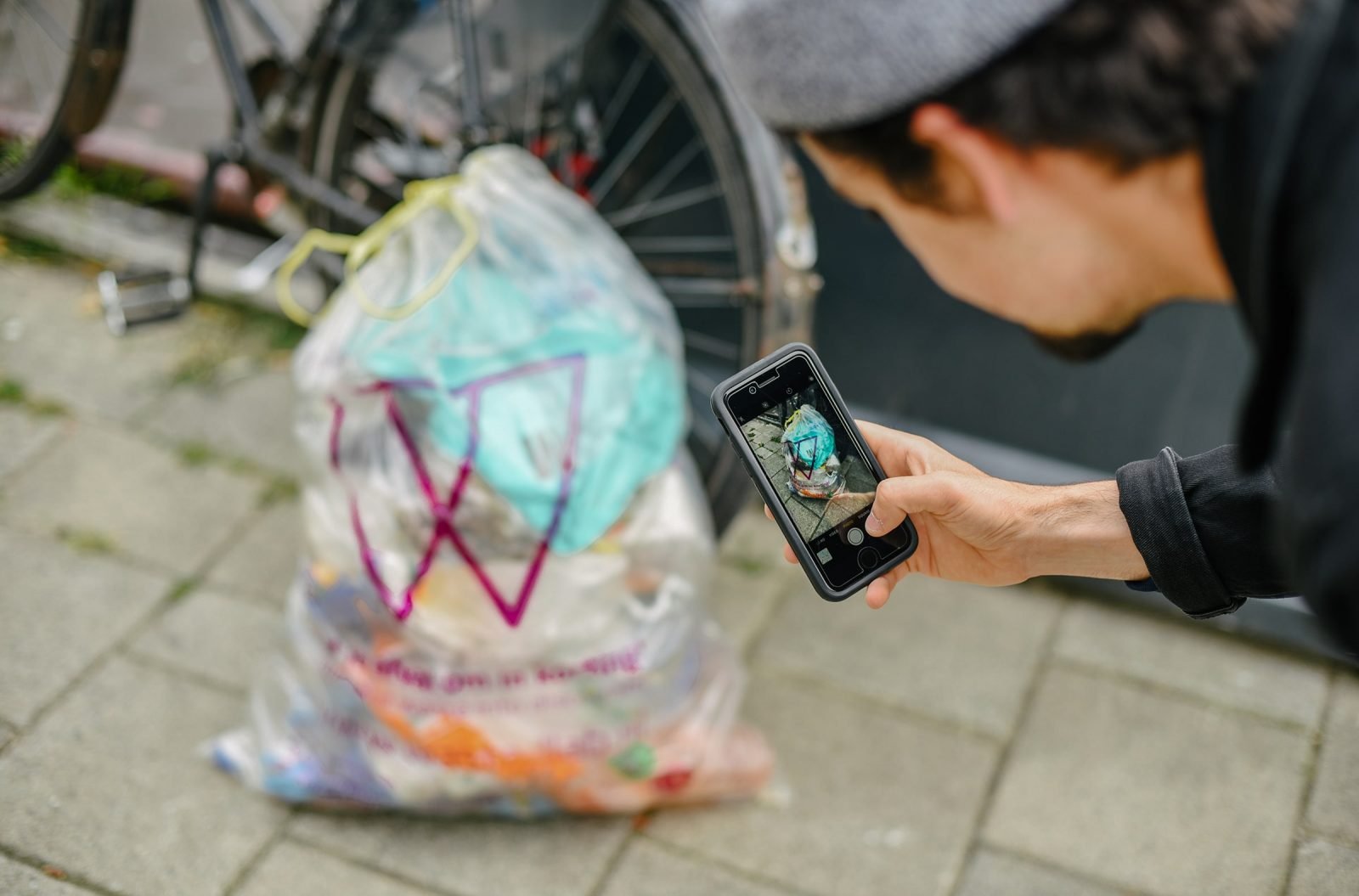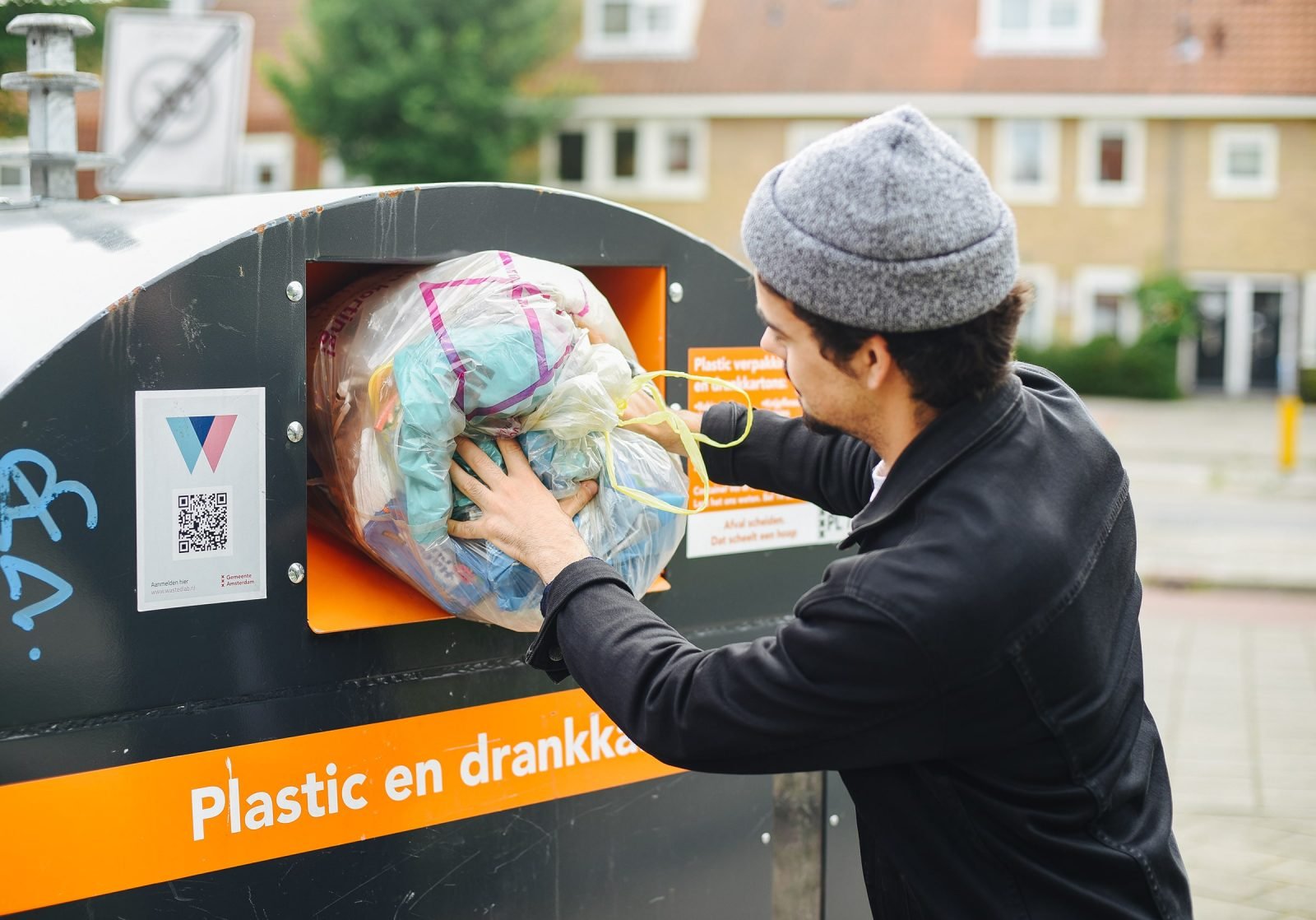 "The reward system would not be possible without local businesses that really want to help support recycling in their neighbourhood," Sietse says graciously, "Local businesses also profit long-term, as recyclers that claim their rewards are likely to come back and spend more money in the neighbourhood."
With its local waste currency, WASTED has helped Amsterdam citizens beyond just making recycling fun. For example, if you save up your coins, you can get a free ticket at the cinema in your neighbourhood. This offers a way for people with lower income to participate in cultural events, who may not be able to afford it otherwise. It's clear that WASTED is making a social impact worth talking about.
"What makes WASTED unique is our approach in rewarding people for good behaviour, which is more effective than punishing people for their lack of effort," says Sietse. We enjoyed participating in the program are interested to see how it evolves over time. It's urban innovation projects like WASTED that can truly help tackle our waste problem in neighbourhoods and cities worldwide.