Flying Grass Carpet Landing in a City Near You
Looking for a way to spruce up dull and empty public space? Say hello to The Flying Grass Carpet — a uniquely designed turf carpet that travels to different cities to bring life to urban spaces that need it most. We sat down with Bart Cardinaal and Eddy Kaijser to find out why their project continues to be successful in cities worldwide.
Rolling Out The Carpet
The idea behind placing a mobile grass carpet in urban spaces came about when Eddy Kaijser, Bart Cardinaal and Nadine Roos agreed that they were not happy with the Schouwburgplein, a main public square in their hometown of Rotterdam, the Netherlands. It was just a space for people to rush over and not think of staying longer. Originally they were just going to write an essay about it, but thought, "Hey, we're designers — let's make a positive design instead." The team developed The Flying Grass Carpet to create a comfortable meeting point in Rotterdam where people could go to relax, play and feel like home. "And then we thought: every city has at least one square that doesn't work, so that's what inspired us to make it mobile."
The Flying Grass Carpet takes inspiration from Persian designs. Internationally, Persian carpets are placed in rooms to bring people together. In the Netherlands, it's common to have tiny Persian carpets placed on top of dining tables. "It takes us back to memories at our grandparents' house. People gather around the table, it's the heart of the home," Eddy explains. The details within the carpet also represent togetherness; once you enter the borders, you are part of something. To truly mimic the design of real Persian carpets, the team used multiple colours and different levels of turf for full effect. The unique floral designs resemble abstract gardens that work well with outdoor public spaces.
The carpet has been travelling for ten years and has visited over 25 cities. Some notable locations include: Berlin (Germany), Madrid (Spain), Budapest (Hungary) and Shenzhen (China). It has even returned to some of its previous locations. With the carpet currently installed at the Schouwburgplein in Rotterdam, it's interesting to see how it instantly changes the identity of a space.
A Social Carpet for the City
"We think people are so different, but they're not. Everyone likes public space and being part of something," Bart says in response to explaining the differences between cities and cultures. They notice a lot of people gathering on the carpet for dining experiences. In China, groups of people meet with their bento boxes, in the Netherlands people come together for after-work drinks and snacks.
When people come in contact with the carpet, they slow down. Since the turf is very soft, people love to lay down, feel the different levels of turf, cuddle and often fall asleep because they feel so comfortable. The kids play and make up games with the line designs. There is a universal familiarity with the carpet and people understand the communal concept behind it. Not enough cities offer space for people to calm down.
It's no surprise that this project is gaining popularity in the urban sphere. The carpets are temporary, modular and can adapt to any public space. They are also cheaper to maintain than a real park and can act as a tool for research. Eddy refers to the city's hesitation at the beginning of the project, "When we first pitched our idea to the city of Rotterdam, they weren't completely convinced that the project would be a success. However, after measuring the results, they uncovered that four times as many people were utilizing the square when the carpet was there. After we removed the carpet, residents requested to have it back."
Back To The Flying Future
Bart and Eddy have a few cities in mind that they would like to bring the carpet next. New York City tops the list because it's so iconic. Hong Kong, since the value for space is enormous here, there is a lot of pressure for public space. In Dubai, people are typically not utilizing public space. "We want to give people a reason to step out of their cars," Bart says. Eventually, the team wants to travel to all continents with the carpet. "We would like to have one small carpet in every city, to create a universal meeting point and connect them as one global community," they say. There is also a lot of potential to have their carpets on rooftops and the team would like to explore this further to make better use of space while bringing people together.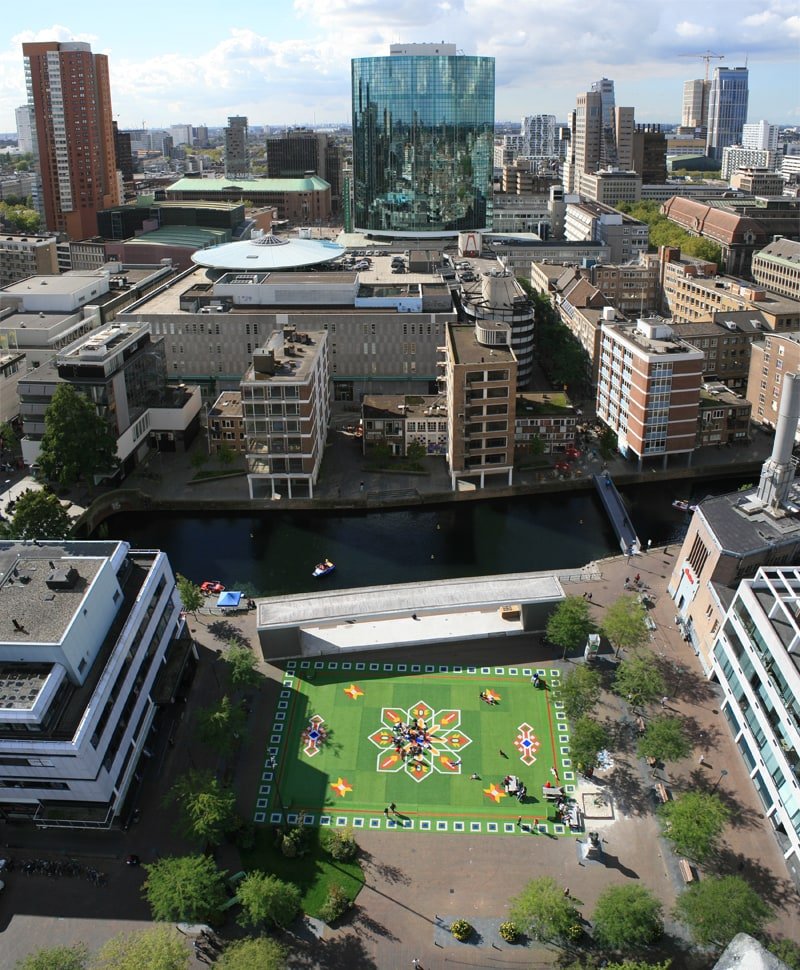 City governments design public squares with the intention to bring citizens together; however, they often fall short because too much priority is placed on economic costs and maintenance. The Flying Grass Carpet can teach us that when creating these spaces, it is vital to design them to be versatile, comfortable and fun to interact with. If a space is designed with the best interests of people in mind, they will gather and even stay a while.