Interior of the apartments
Skender compares the production of these units to that of smartphones, with technologies such as speakers, security and smart lighting pre-installed and ready for use. In fact, the company considers the apartments themselves as integrated pieces of technology that are "built inside a factory, then transported to the building site, and assembled and stacked along with other units to deliver a full apartment building."
In their aim to localize and vertically integrate the construction process, the company built a manufacturing facility creating 100 new jobs on the southwest side of Chicago. The main difference with other firms betting on modular construction technologies is that Skender is bringing design in-house. "The goal is to overcome fragmentation between architect, engineer, contractor, and subcontractor, bringing them into the same factory to combine the efficiencies of modular architecture with the holistic approach of a design/build firm," Fast Company reported. This means designers are virtually working alongside builders and carpenters.
By minimizing risks of miscommunication and delays in this way, construction costs could be cut by 15% while the timeline of construction could be reduced by as much as 40%, according to Skender. The fact that the company is working with the City of Chicago also adds to possible time reductions. They are trying to get local government to pre-approve certain designs, which would result in less permitting delays and a simpler project execution.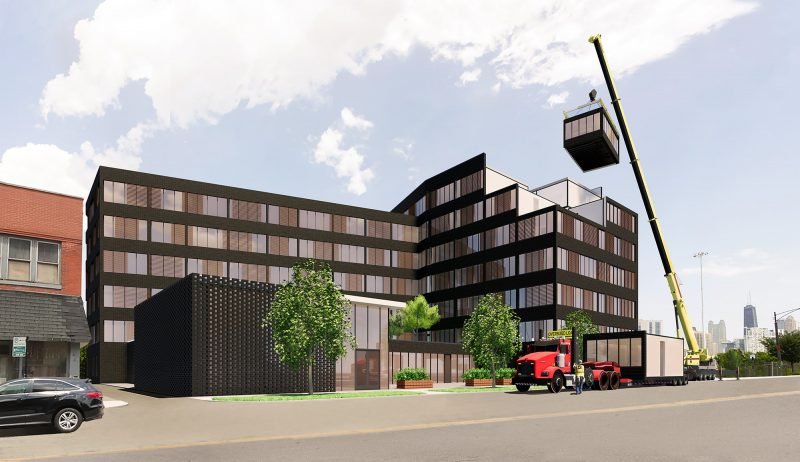 While the idea of constructing homes assembly line-style is nothing new (Levittown, anyone?) and modular architecture has been a long time coming, a true revolution in modular architecture has failed to appear. Still, in recent years a renewed interest in modular building technology has persisted. Previously, we reported on a modular hubs transforming vacant spaces into homes, a modular mobile office, and even a self-sustaining modular tiny house designed to survive on Mars. With companies like Skender and Katerra — another construction company betting on modular construction from design to finished building, that raised $1 billion over the past three years to make it happen — however, things are moving up a scale (or two). Is the modular revolution coming?