Patch Turns Furniture Into A Solar Energy Circuit
What if furniture could act as its own energy source? Brooklyn-based design agency, UM Project, developed an interconnected furniture collection that doubles as a tool to power your home. Functioning as a microgrid, it powers light, motion and sound without taking up extra space.
As solar energy becomes more popular in homes, an increasing number of utility batteries are being used to store and regulate electricity. Due to their size, it can sometimes be challenging to fit a battery system into small homes. Designer, François Chambard, created a furniture series that integrates solar energy collection, storage and distribution all within furniture pieces.
Presented at Salone del Mobile 2018 in Milan, Patch is a furniture collection that includes an outdoor bench with solar panels that generates electricity, connected to three cabinets that act as a self-sustaining electrical grid, a wire curtain, motion-detecting lights and a mirror that rotates upon touch for cable management. Solar energy flows from the bench through all furniture elements, thus transforming a small home into a microgrid.
UM Project says the system can produce enough energy to power a micro-apartment. Solar panels need eight hours to recharge and produce energy that lasts 24 hours. According to Chambard, "Patch celebrates the beauty of the circuitry, suggesting a humane and inviting vision of technology." Indeed, similarly to previous UM Project's works, Patch approaches smart and sustainable living in a playful and gentle way, that counters the more technical and engineering-oriented approaches on the market. The soft tones and curious shape of the pieces highlight the perfect balance between handcrafted furniture and the modern day technology underpinning it.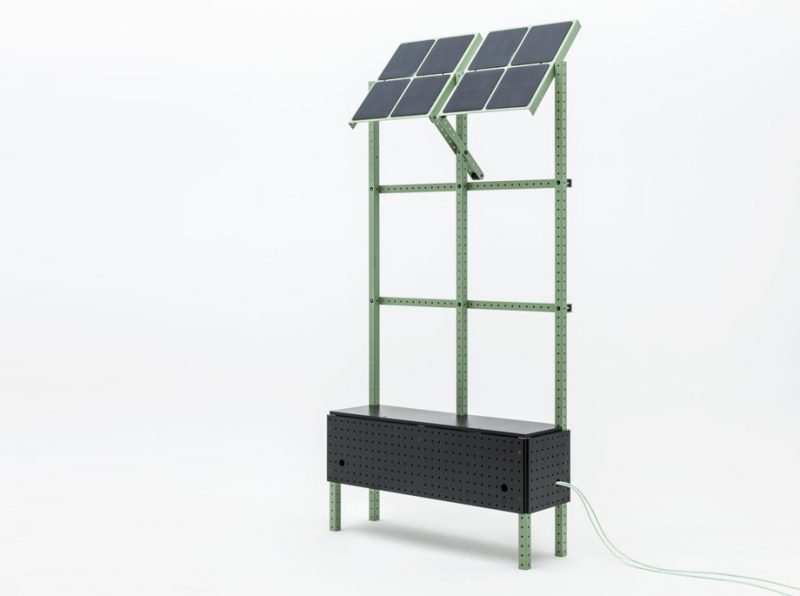 The Patch collection proves that you don't need to compromise good design or sustainable energy when designing small living spaces. If you're looking to introduce solar energy into your home, these multifunctional pieces are sure to make a statement.