ParkUp Is Breathing Life Into Neglected Spaces in Taipei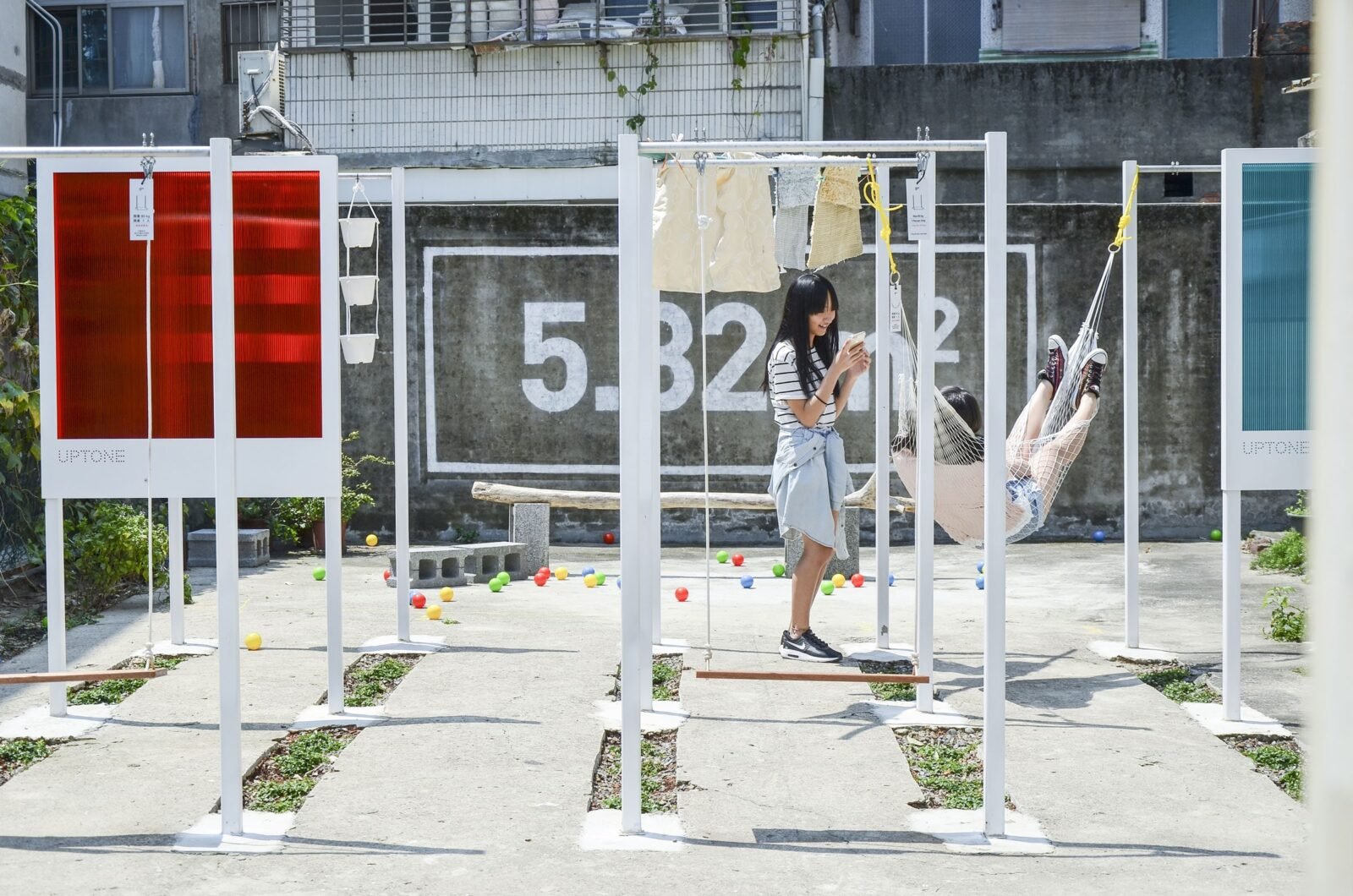 A park is alive and teeming with energy when it's filled with markets, children playing, people picknicking, and jogging. These public spaces are vital to bringing vibrancy to any city. Yet, Taipei's crammed urban landscape and high population density limit the number of available large open spaces and parks.
Justin Yu and his colleagues turn to Taipei's small, neglected spaces to activate and enliven the public life of residents. Justin is the founder of Plan b, a consulting firm based in Taipei specialized in sustainable development. MOMENT editorial member Hiromi shares her reflections from her conversations with Justin and her recent visit to ParkUp.
A Local Park to Embrace Playfulness and Creativity
As I lingered in ParkUp on a warm afternoon, I couldn't recall the last time I had stepped foot in a park during the day. For some reason, I was drawn to stay in this humble park tucked away in the narrow streets of Taipei. After some time, I instinctively climbed on one of the play structures, taking in the touch of Taiwanese natural wood. As I looked down, I saw that the park is full of individuals who think of the park as theirs: middle-aged men reading in the sun, teenagers chit chatting, and children screaming joyfully.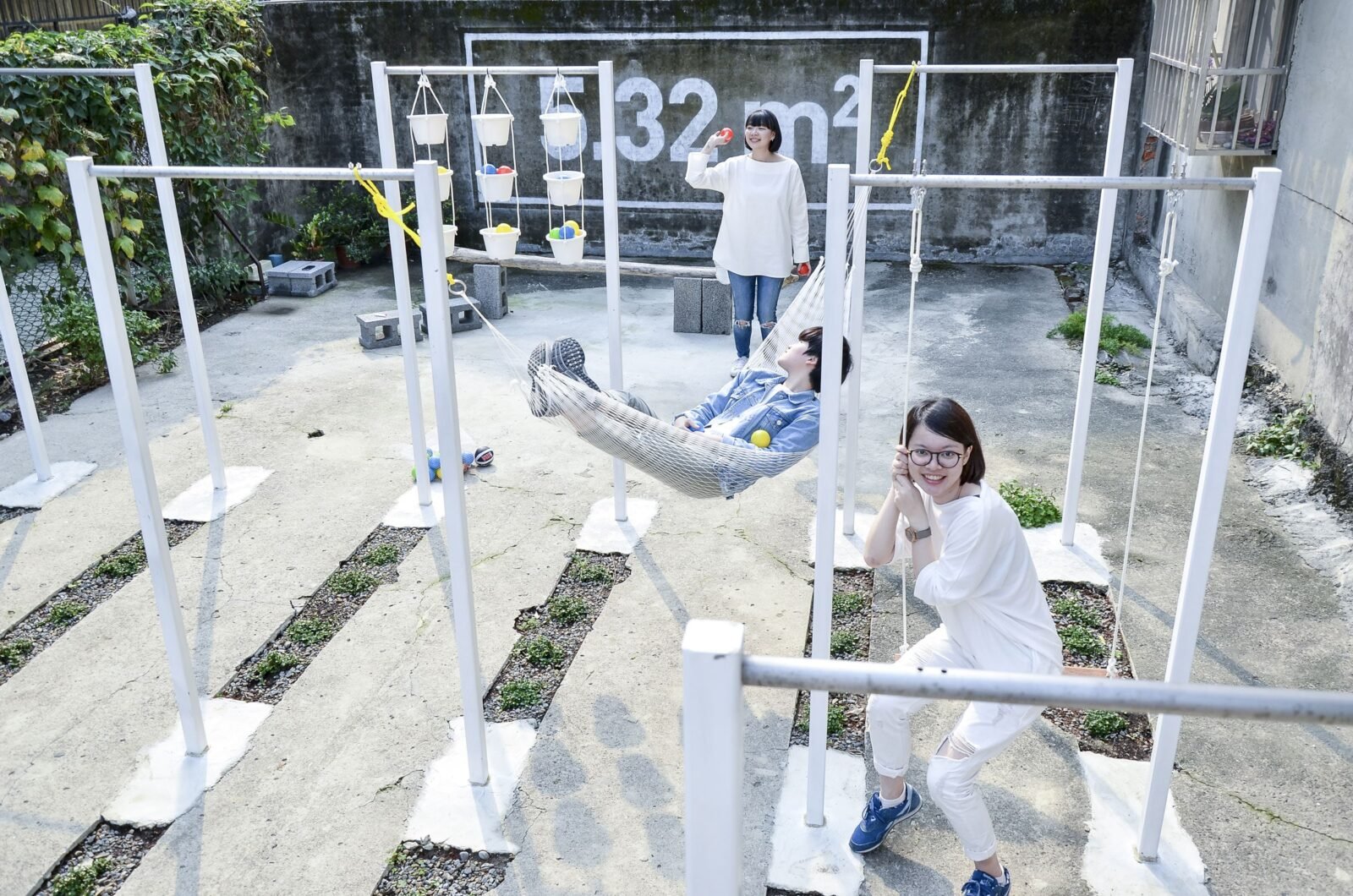 I came across ParkUp through Justin. After rounds of iteration, Justin and his team transformed a neglected space into a place citizens could manipulate and change to meet their needs. ParkUp is a unique platform for citizens to be creative and demonstrate ownership over spaces in their city.
ParkUp's success of becoming a usable, inclusive public space didn't come without failure. It all started with a neglected space that Justin and his colleagues spotted minutes away from Plan b's office. They saw the opportunity to transform the void into an attractive, usable space, much like the lively streets that surrounded it. Unfortunately, the initial transformation was met with skepticism from the community, bringing the park to a close after just one year. Looking back, Justin now realizes his shortcomings: "It's not just about building a space. It has to be a space that community members want to use. So we've learnt that we have to design based on the community's needs and to place their desires at the center of the process."
Although the park came to a close, Justin and his team's determination to revamp the unheeded space kept growing. For two years since its closure, they carried out public space observations and research. They carefully observed how residents use public spaces and used their insights to design the park. His team prototyped and iterated many structures and park designs to come up with an optimal space where citizens could come and express their needs and desires.
After months of iterations, they finalized their design: nine white steel structural frames scattered across the site.
Visitors appropriate the bars to assemble structures that support the changing needs of the place, allowing for endless playful and creative possibilities. To some, the park is an extension of their balcony where they hang their damp bed sheets along the rods. To others, the space is an open public gym with no membership fee, where they power through pull ups using the sturdy bars. To children, the space is a blank canvas to bring their playfulness to life; they install make-shift swings along the rods and share the simple pleasure of swinging.
From Neglected Spaces to Possibilities: Transforming Taipei's Urban Landscape
In a city like Taipei, the constant development and expansion of urban centers create active vibrant areas interspersed with abandoned, left over, in-between spaces. In fact, there are about 12,000 of these void urban spaces across the city. Plan b interpreted these spaces as 12,000 possibilities to foster interaction and playfulness in the city. With enough experience and knowledge on how to make use of such unused spaces, Plan b ventured off to transform Taiwan's urban landscape one void at a time.
Confident in their process and learnings from ParkUp, Plan b followed three principles in designing and repurposing in-between spaces: the spaces must be under 165m², have an inclusive design, and must be localized to the community.
Their second project where they tested their process was at Shude Park where trash collected inside its borders and weeds grew brown and brittle. Previously, the park was frequented by homeless individuals, gang members, and eldery residents. Plan b saw the opportunity to revamp this park into a more accessible, inclusive space, with a multitude of activities for different age groups and types of people. They carried out careful observations and research by assessing daily interactions of residents and their use of public spaces.
Plan b then joined forces with Taiwan Parks & Playgrounds for Children by Children, an advocacy group led by mothers who promote child-friendly play structures. Together, they used Taiwanese wood, metal rods, and nets to install playground equipment. What was once a neglected, sparsely park, became a vibrant open urban playscape where children's laughter echo.
Reimagining the Future of Public Spaces in Our Cities
Before visiting ParkUp, I didn't think a playground is a space a 20-something year old like me would want to spend time in. But somehow, I voluntarily wanted to be in the park. Around me, it felt as though local residents also wanted to be there. Like ParkUp, great public spaces in the city are places that citizens want to visit, use, and reclaim.
Plan b's parks help us interpret and reimagine the spaces in our cities as opportunities to demonstrate creativity, playfulness and ownership. How about the public spaces in our cities?