A logic result of the current urban farming trend is making the good old farm fit with the urban structure. Different architects and city planners around the world are playing with the idea of so-called vertical farming. For instance, take a look at the website of the 'Vertical Farm Project', which aims to give a brief overview of utopian ideas and architectural practices related to this topic.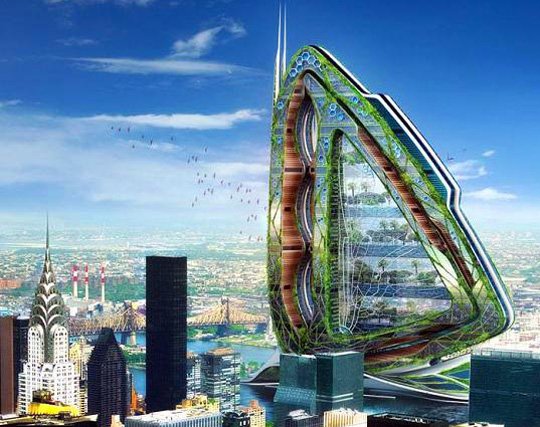 New York is one of the cities trying to fill the gap between nice idea and reality. In January we already wrote about NYC's temporary public farm designed by the architects of WORK. Recently, Inhabitat blogged about the design for the 'Dragonfly', an incredible farm skyscraper for Rochester Island spanning 132 floors and 600 (!) vertical meters. "In a densely packed borough like Manhattan, growth must come vertically", the idea makers argue. The tower, which is designed by Belgian architect Vincent Callebaut, intends to ease the problems of food mileage and shortage and reconnect consumers with producers.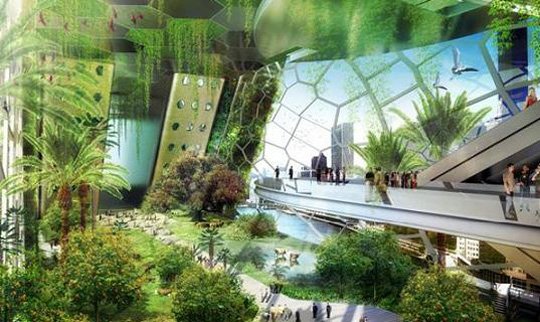 The Dragonfly can accommodate 28 different agricultural fields for the production of fruit, vegetables, grains, meat and dairy.
"A combination of solar and wind power make the concept 100% self sufficient. In this utopian superstructure offices, research labs, housing, and communal areas are interspersed between orchards, farms, and production rooms. Plant and animal farming is arranged throughout the Dragonfly's steel and glass set of wings so as to maintain proper soil nutrient levels and reuse of biowaste."
The makers do not only address the issue of modern food production, but also managed to design a building that can be the next very big landmark for a city like New York.