MINI Lets Urbanites Design Their Future Co-Living Space
Car brand MINI's future living lab MINI Living presented its vision on the future of shared space during the 2018 Salone del Mobile in Milan. Visitors of the installation were encouraged to design their own co-living unit.
In collaboration with London-based Studiomama, MINI Living showcased their vision of "creative use of space" at the Salone del Mobile. The spatial installation visualizes how shared living could look like when you combine open communal areas with individual private space. This micro-neighborhood could be easily scaled up depending on the available space as the elements it consists of can be combined flexibly. Between the communal areas, such as kitchen, gym and indoor garden, individual living units provide private space for the co-living residents.
In the experience area Factory of Ideas, visitors could build their own miniature living unit from colorful building blocks in different shapes and materials. The requirements and personality of each individual needs to be considered when it comes to designing co-living spaces: "We believe the quality of a living space is determined by how well the residents identify with their home," says Oke Hauser, creative lead of MINI Living.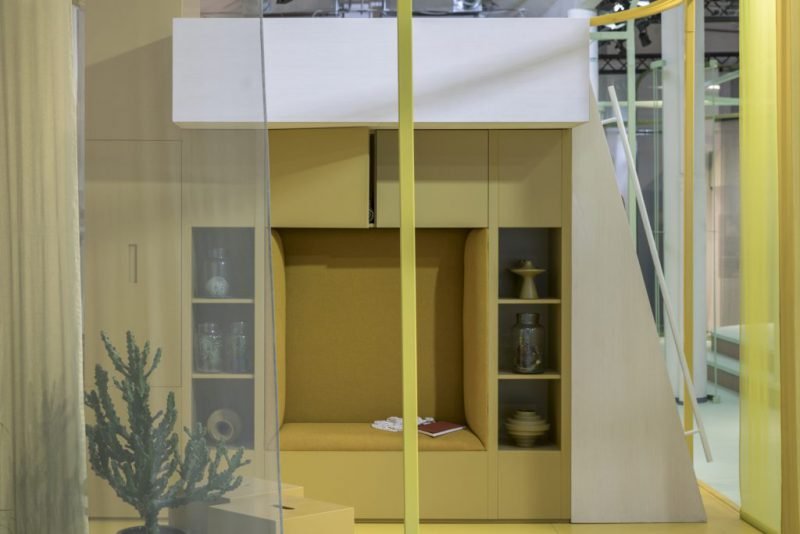 Through such playful interactions, co-living residents could be included in the design process, which might foster community engagement and a sense of belonging to the space. With this installation "Build by all", MINI Living created a possible framework for creative collaboration that they believe could be one example in how the future role of architects and residents of co-living spaces will develop.
We are curious if this is a first glimpse into the inside of the co-living complex that MINI is currently building in Shanghai to transform a disused paint factory complex into a new neighborhood.