Making Cyclists Heard On The Road In Mexico City
The hustle and bustle of Mexico City leaves cyclists feeling "invisible", which is putting people off cycling. Local design agency José de la O have created a fun, musical prototype to help lessen the fear of cycling and get more people on their bikes.
Local government in Mexico City is providing infrastructure to facilitate cycling around their busy city as bikes are becoming more and more popular. ECOBICI is a public bicycle-docking service, much like Santander Cyclers (Boris Bikes to many of us), that has been provided by the government for the past seven years. Thomas Hoogewerf, an intern at Studio José de la O, decided to conduct research as part of their Project Friday Initiative (part of the agency's intern program where every intern develops a speculative or critical design project every Friday for six months, which they can then publish in their portfolio), that looked into how the service could be improved based upon people's experiences. It turned out that one of the key issues that the interviewees found with cycling in Mexico City is that "people don't notice you, you are not present enough".
On this basis, Hoogewerf and his colleague Judit Parés ran a design experiment to create a novel device that helps to protect cyclists by letting the rest of the traffic become aware of the cyclist's presence in a much more pleasant and powerful way than your average bicycle bell. They created DIY contraptions form regular household bits and pieces that can create a "a constant rhythmic and analogue sound", whilst you cycle.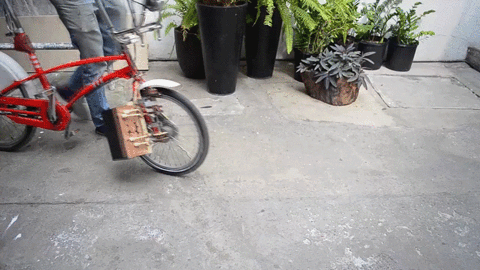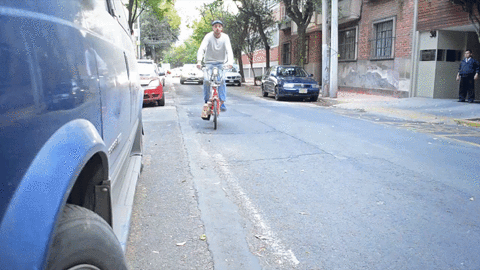 The duo have created three different DIY contraptions, which they have given the self-descriptive titles "Rhythmic percussion, Wind Sound and Percussion and Friction". All three designs create a "pleasant soundscape where the cyclist goes", which sounds much nicer than the angry drrring of bicycles here in Amsterdam.
This is a simple idea that brings together the serious side of encouraging sustainable transport, by protecting cyclists with the fun side of playful design. Furthermore, the imagery they are using to demonstrate their design is pretty neat. Kudos to the design team, we like it!