Love Hotels: The Hidden Fantasy Rooms Of Japan
Some time ago I found a ten-years old book at some flea market called Love Hotels: The Hidden Fantasy Rooms of Japan. I really wanted to have it as the book uncovers and extensively documents one of Japan's most remarkable urban phenomena: love hotels. Created by photographer Misty Keasler, Love Hotels shows you a glimpse of those places that you (probably) never enter, let alone know of.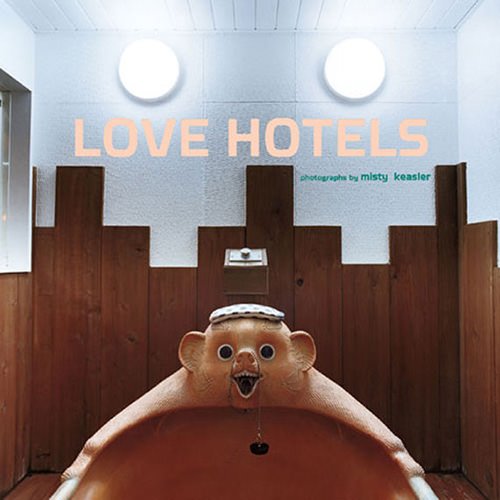 Love hotels enable couples to rent decorated rooms by the hour for amorous liaisons. There's a huge variety in types of rooms, with each of them focusing on a specific theme that triggers erotic fantasy. The book shows a room that looks like a metro train interior, a candy shop, or a room that's decorated as a library. Love hotels are used by married couples who want some privacy, by lovers who can't get their hands off each other, or by prositutes and their clients. The rooms are interesting for how they look and how they are designed, but they also say a lot about Japanese culture. Japanse people find it less comfortable to have sex in their little houses, especially in dense cities like Tokyo, Osaka, and Kobe. But going to a dedicated place for the purpose of having sex is also a deeper rooted phenomenon in Japanese culture.
Besides the beautiful kitschy decors that the book shows, it also sheds a light on the cultural background of the love hotels, that goes back to the Geisha teahouses in the Edo period. Since they have evolved into cheap flimsy places in the darker neighborhoods of cities. In the last decades, however, the interior design and thematic elements have become more popular, which make the hotels more function as decorated erotic playgrounds for couples than of prostitution places. According to Matsuo Kirino, who wrote the introduction of the book, the Japanese need a sense of unreality accompanying sex: "Rather than sex itself they like the fantasies that go along with it." Some fundamental institutions in Japanse society, such as family and marriage, are very much related to the public atmosphere. These concepts are predominantly about presentation to the outside world. The world of private emotions is much more personal, which creates more room for extraordinary fantasies and emotions. This is what creates the demand for love hotels.
In this world in which cities tend to copy other cities' local culture very quickly, this phenomenon remains to be typical Japanese. That makes it fascinating too. The book Love Hotels, which is almost ten years old, does a great job in depicting seventy colorful portraits of the craziest love hotel rooms that feature the most weird erotic fantasies.
Love Hotels: The Hidden Fantasy Rooms of Japan
By Misty Keasler (photographer), Natsuo Kirino (foreword), Rod Slemmons (contributor)
Published by Chronicle Books
ISBN: 978-0811856416