Local Company Crowdsources Scooters For Detroit's Kids
Electric rental scooters are becoming more and more popular among tech savvy commuters in big cities like Detroit. The Detroit Bus Company started a campaign to make scooters available to kids in low-income neighborhoods too.
The Detroit Bus Company started a campaign called "Play Free Bird", aimed at crowdsourcing at least 100 scooters with helmets for kids in low-income neighborhoods in Detroit. The campaign name is an ultimate play on a classical concert heckle and is inspired by the shortcomings of scooter sharing startups like Bird and Lime, that according to the Detroit Bus Company, "ignore the people who need them most".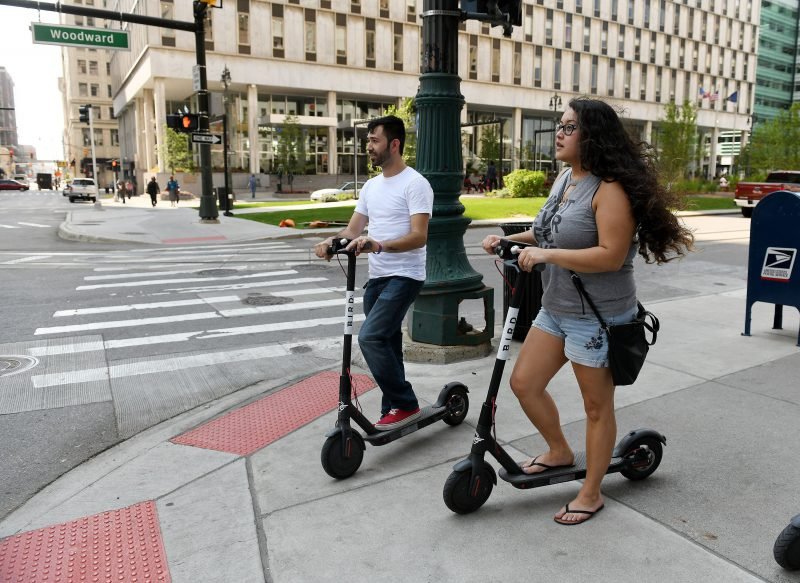 Traditional electric scooter companies let people unlock scooters and ride them wherever they want as long as they have a smartphone credit card, a drivers license and the money to pay for the scooter. With Bird, adults can sign up as a 'Charger', someone who picks-up 'dead' scooters and charges them for a fee. "It's great if you're a well-off person with all of the required bits listed above, but what if you don't have access to a credit card? Or a drivers license? Or you're 8. You're out of luck, bub", says the Detroit Bus Company website.
The campaign initiator Andy Didorosi realized that many dead scooters were ending up in lower-income neighbourhoods where kids are playing with them with no intention of returning them to a charging station. The kids found a flaw in the otherwise bulletproof security system: once the scooters run out of battery, they stop updating their location, the lock won't close and they turn into ordinary scooters. "It struck me that it must really suck to be a Detroit kid in the summertime and see these cool looking scooters but you're technically not allowed to touch them – so I want to do something about it", says Andy Didorosi.
Inspired by his experiences with children in low income neighborhoods, he became motivated to make scooters accessible to children who don't have a driving license, credit card, money and a smartphone in order to rent a scooter. "We are going to obtain, assemble, charge and deliver at least 100 scooters with helmets to neighborhood kids in Detroit. No strings attached". The campaign hasn't reached it's $20,000 goal yet, but it does a great job at pointing out the shortcomings of ride-sharing and vehicle-sharing systems that are found across the world.
The Detroit Bus Company was founded by Andy Didorosi who wanted to counterbalance the city's inability to offer transportation to its residents. His company started providing free rides to Detroit students in 2012. Today, the company provides a ride to a child in need of transportation for every paid-for ride on their system. Even though Detroit is slowly recovering from the economic bust at the end of the 20th century, many Detroiters take action into their own hands as the city's facilities are sometimes lacking.