Reimagining Detroit With Akoaki

In 2014, a DJ booth resembling a spaceship flew around Detroit's North End, starting parties wherever it landed. Designed and conceptualised by Detroit-based architecture studio Akoaki, the Mothership references North End's legendary funk music scene from the 70s and spurs the reimagination of local cultural assets.
Akoaki founders Anya Sirota and Jean Louis Farges carefully calibrate aesthetics and spatial design for cultural production and equitable development in Detroit. How does Akoaki engage with local contexts, narratives, and imagery to strengthen their city? We visit Anya and she reflects on their practice.
Developing New Methods of Practice in Detroit
Jean Louis and I moved to Michigan for my teaching position at the University of Michigan. I thought I would teach one class and move back to the East Coast. When we arrived, we were stuck by the context, the level of infrastructural disinvestment, and by what appeared as punishing, racialized neglect of the inner city. At first, we thought that there was very little that architecture or design could do in this scenario. But then we became quite compelled to stay, first because of the university, but also because of the challenge of finding new methods of working. We had to let go of everything that we thought was normal or self-evident in the discipline and try things that we had never imagined trying before.
We moved in 2008 and in the first four years, we were not involved in any projects locally. I don't think we even took a single photograph of Detroit. We were careful not to replicate the ruination narratives that were already viral, and we didn't think we had much to add to public discourse with our familiar tools.
The Mothership: A DJ Booth That Spurs Reimagination
The Mothership project began in 2014, when we received a small grant to rethink what urban planning might look like from the perspective of architecture and the arts. We started attending meetings with an artists' group in the North End. Some people shared stories about how Parliament Funkadelic had gotten their start in the neighborhood. Or how George Clinton had transformed from a popular crooner into the vanguard papa of funk at the local Phelp's Lounge.
These experiences sparked a desire to tell the story of place through the living arts rather than the memorialization of nostalgic images or lament over missing elements in the built environment. So that was it! We worked with artists in the neighborhood, and they connected us with George Clinton and other local musicians that had performed as part of the Parliament Funkadelic's extended family.
We designed and built The Mothership as an urban marker. We used it to start parties, and to operate as a DJ booth, to broadcast stories. But really, it was a tactical way to say that when you don't have access to enough capital to rebuild an entire district, you can start with an image that catalyzes activity. You can cultivate a platform from which to illustrate that there is sufficient local talent, audience, and interest, that cultural preservation is necessary.
Once we had the concept of a symbol in place, we needed a name for the project: O.N.E. Mile for Oakland North End Mile. The idea was that before there was Eight Mile, there was an origin story for the type of sound and music that had emanated from the North End.
The project addressed a central question: how do you take a place that has a profound cultural history, the same people living there all along, and tell their story without a sense of lament or a nostalgia for what's lost? We thought, we can activate programming, we can host events, we can build scenographies. We can use photography as a powerful tool for re-imaging a sense of vivacity rather than replicating degradation. And we can also launch a publication that tells personal stories about the people who give the place meaning.
Akoaki's Approach: A Dispersed Cultural Center Within a Neighbourhood
When we came to Detroit, one thing became evident: there was no clear top down governance and no cultural ministry. Many residents were managing things on their own. We started to be really intrepid in both spatializing and funding socio-cultural activity. We began to think about taking a cultural center and fragmenting it over the space of a neighborhood. We were interested in building the project out incrementally in order to produce a more dispersed but contextually driven cultural landscape. A landscape that would integrate, feed and create a relationship with what's already there. It would not count on external cultural production to activate its spaces. For five years, we continued working on this aspiration: to create a dispersed urban cultural center in a single neighborhood.
Same Approach, Different Urban Markers
The cultural assets are different everywhere we work. It's a fluke that the ones in the North End are so inspiring and exciting. If we moved two miles over, we would have an equally unique though entirely alternate scenario because it's human occupation that makes a place great. Every single neighborhood has an amazing story. We landed in the North End by accident, but we could have worked somewhere else. We certainly wouldn't have built a mothership, but we would have built an urban marker. We would have thought about what it means to create an alternative image, change public perception, and about what a dissemination platform would look like. We would have considered ephemeral programming and urban activation in the same ways. Our methods are consistent, but the outcomes are radically different, contingent on the space and the participants.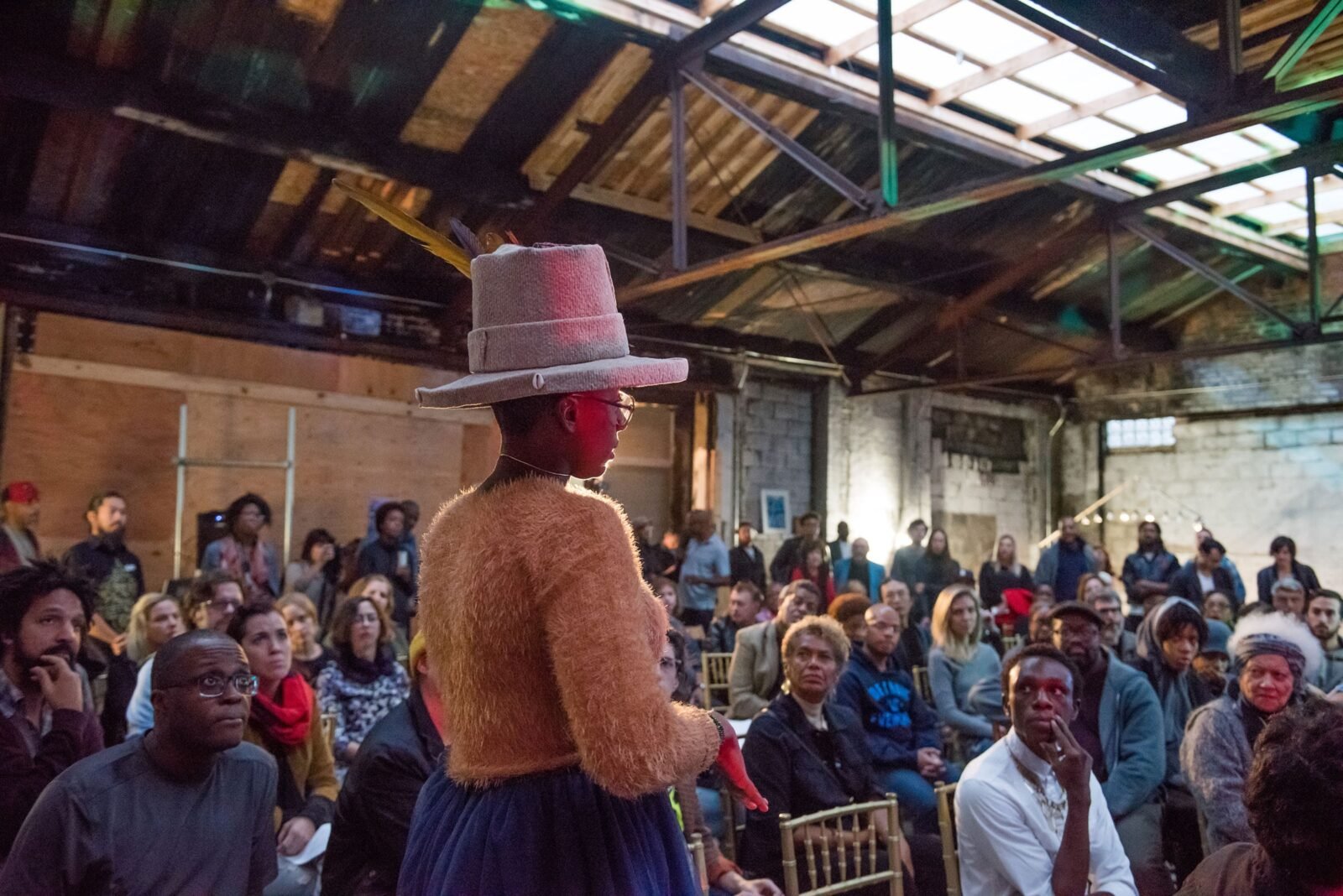 On Designing a Governance Structure
Our exit strategy of our projects is to leave a plan or policy in place for an autonomous governance structure. For example, what started with The Mothership grew to become the O.N.E. Mile project. Later, we were able to purchase the Apex Bar, a historically significant bar in the area, with a partnering artist, Bryce Detroit. We are now working to transform the space into a nonprofit with a board. Down the road, we hope that the board will translate the project into a land trust. That means that what we instigated as an ephemeral design project inflicts a governance structure that contributes to collective ownership of cultural assets for future generations. That's our exit strategy because we don't want to own property, we don't trust in capitalism, or trust individual heroics. We want our practice to express our politics. It's a process that we continue testing.
Next Steps for Akoaki
I feel like we're on the cusp of a new chapter right now.  We were working for six years on very conceptual, ephemeral installation projects. Now, we have turned our attention to a project that is larger in scale: the Detroit Square, an 83-acre master plan for Detroit's cultural district that seeks to unify the space between 12 distinct cultural institutions. Though the shift in scale is significant, we are applying our longstanding sensibilities, intentionality, and methods of negotiation.
I think methodologically, our approach can expand and contract without major reconfiguration of the basic techniques. But there is probably some sweet spot where there's the right scale for a range of participating stakeholders to govern in a way that's pluralistic, liberating, and non-didactic. My hunch is that the 12 institutions in Detroit's cultural district can do it. Our next chapter is to continue working on an urban scale with an expanded network of actors.