Can Healthy and Nutritious Food Be Available for Free? Atlanta Says Yes
A quarter of Atlanta's residents struggle to access healthy food. The Urban Food Forest hopes to tackle this problem.
Food deserts are defined as places where access to fresh, nutritious food is limited. In response to this challenge, food forests are popping up all over the world. The concept of food forests emerged in Europe and Western America in the 1980s. The first such official initiative was established in 1997 in Asheville (North Carolina) on the East Coast, but the explosion of such initiatives came after 2012 when the Beacon Hill Food Forest in Seattle was widely covered in the media. Today, there are 123 community food forests across the US, the largest of which is located in Atlanta.
The lack of access to healthy foods affects a quarter of all Atlanta's residents. And despite this, the growing of food in residential parts of the city was prohibited until 2014. Now, however, the city has set a goal of providing 85% of residents with access to healthy food within less than a kilometre by 2022. The Browns Mill area, which hosts Atlanta's food forest, is a 30-minute bus ride from the nearest grocery shop, and one-third of its residents live in poverty, therefore creating a food forest here fits very much into the city's goal.
The history of Atlanta's food forest began on a former pecan farm, previously owned by Ruby and Willie Morgan. The farmers used to leave excess products on the fence for their neighbours. When the land was purchased by the non-profit Conservation Fund in 2016 and the development of the food forest began, the sharing of food began to take on a different form.
The Food Forest belongs to the Atlanta Parks Department. The 2.9-acre site is covered with 2,500 edible plants available for free to residents. Although it is a top-down initiative, it is being developed in close cooperation with the local community. The initiative has more than 1,000 volunteers, and in a single day, there are up to 50 people planting, watering and caring for the plants. Food is collected by community members and then distributed, made available free of charge to visitors of the forest. Some volunteers who have learnt to grow plants, take cuttings and seeds from the forest to grow their own home gardens, expanding the food forest beyond its formal area.
The food forest at Brown Mills incorporates the concept of agroforestry, a form of land management that involves trees and shrubs coexisting on the same land along with agricultural crops. These plants form a diverse and multi-level system. This way of cultivating plants is resilient and sustainable and is particularly beneficial for small farmers. At Brown Mills, in addition to new plantings such as a fruit and nut orchard, and gardens with a wide variety of fruits, vegetables, herbs and mushrooms, there are also pecan trees, blackberry brambles, and muscadine vines which remain from the previous farm. The area also has a meeting point with picnic tables and hosts school trips, where students have a chance to be in the forest often for the first time.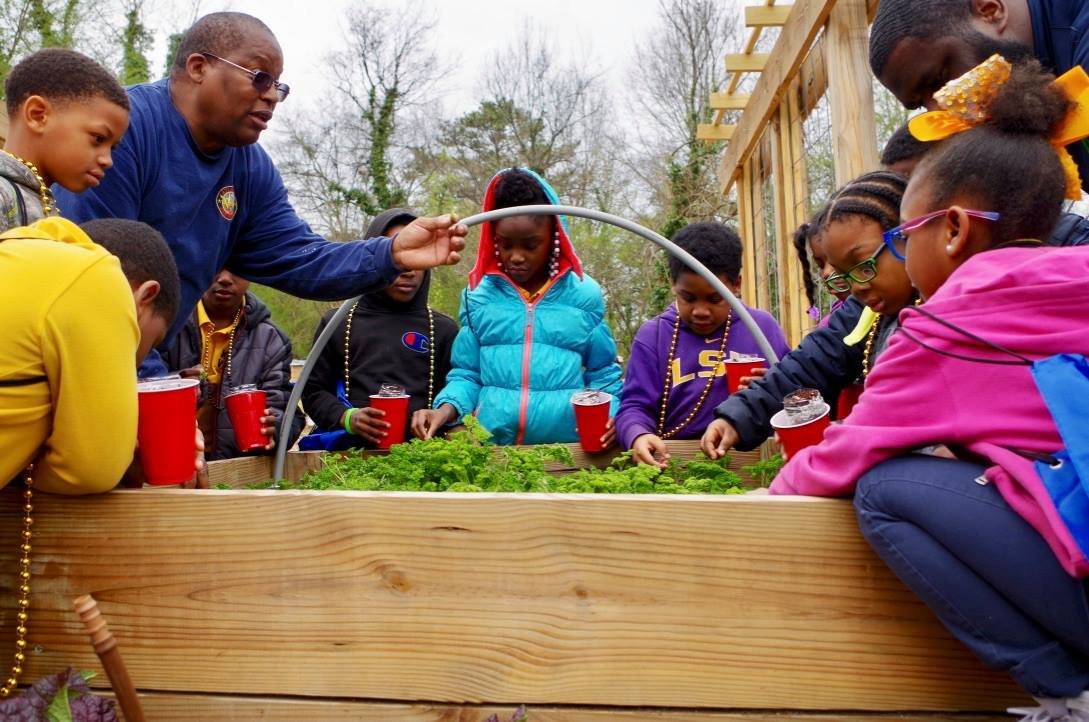 In addition to providing access to healthy food and environmental benefits, an important component of food forests is the social aspect. Such community food forests require the cooperation of many actors — these can be local authorities, residents, NGOs, sponsors, and educational units. Food forests help to find pathways for collaboration, create a sense of agency and responsibility, identifying local leaders, but they are also a safe, pleasant and healthy place to spend leisure time and meet people in their own right.