Dutch architecture firm Roosros Architecten has designed a sustainable open source prefab house that can be built both on land and on water. This opens up a whole world of possibilities for housing in previously uninhabitable places.
Petit Place is a tiny modular house made entirely out of sustainable material. The prefab uses a grid-pattern structure and is constructed by connecting a number of elements which determine its size. The user can even put the elements together by themselves and create a home ranging from 25m² to 1000m².
The cabin's exterior is permeable and insulated using ISO flax made mainly out of old linen. The waterproof quality of Petit Place comes from the breathable Gore-tex foil it is wrapped in. The tiny house has triple-insulated glass windows and doors, its overall framework is entirely circular. Thanks to the insulation, the interior of the cabin is not reliant on artificial heating and cooling. The prefab is powered by solar panels which can produce three times more energy than needed for the home itself!
Alternative designs of the exterior of Petit Place have been presented by Roosros Architecten: The Green Machine, a version covered in greenery, and Zero Waste, one made with reclaimed wood. The different variations are fully sustainable and make the Petit Place can be adapted to the location it is in. The inside of the tiny house is spacious and bright due to the structure's high ceilings and numerous windows. The prefab is an example of 'luxurious sustainability' – it allows you to live in a comfortable and aesthetic home which is good for you and the for the plane.
The Petit Place can help you "live wherever you please" whether it is in a city, field, mountain or on a lake without having to worry about climate or topographic limitations. The first prefab of its kind has been assembled next to the water tower in Zwijndrecht, the Netherlands.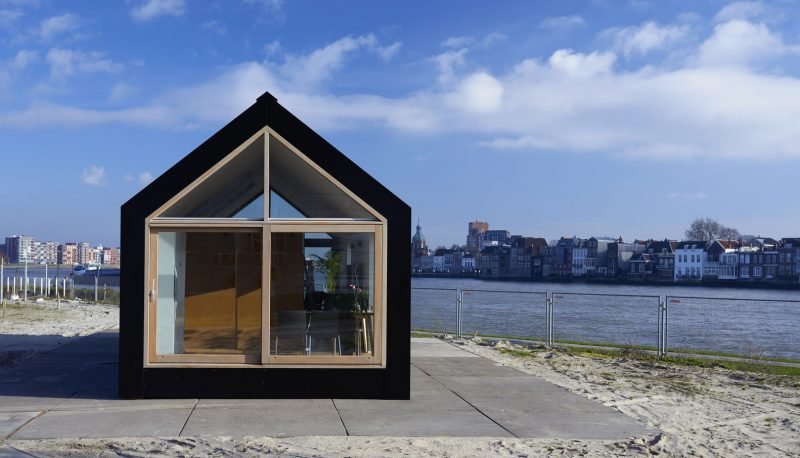 The Dutch landscape is interesting for this project as it is defined by the multiple water elements surrounding and intertwining the country. The government of the Netherlands has assigned buffer zones in the delta areas (in the center of the country) which are prone to flooding. Those are mainly farms, however thanks to the Petit Place these areas could gain a new function and become habitable. Similarly, other delta regions (e.g. New Orleans) and flood-prone places could benefit from the amphibious prefab.