The Erotic City: Taking Love To Another Level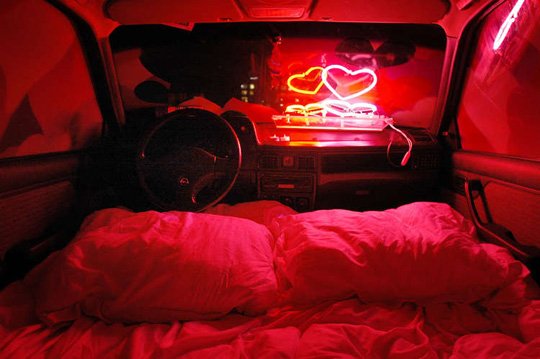 As kick-off of the upcoming art event Liefde in de Stad, organised by concert hall Paradiso this month in Amsterdam, we'd like to introduce an installation that was part of the event back in 2006. 'Liefde in de stad' means something simple like 'love in the city'. Because we are very interested in the erotic dimensions of the city, there might be some thematic overlap. Eroticism surely can't be seen completely apart from love. This amazing project has to be shown since it is extremely relevant within an Erotic City context.
Federico d'Orazio designed this spectacular recycled hotel room as a temporary extended room for the Lloyd Hotel in Amsterdam. The room called 'Full Llove Inn' is made of a stripped Opel Kadett hoisted up and replaced on 4.5 meters high poles. A relaxing love nest high above the overwhelming urban density.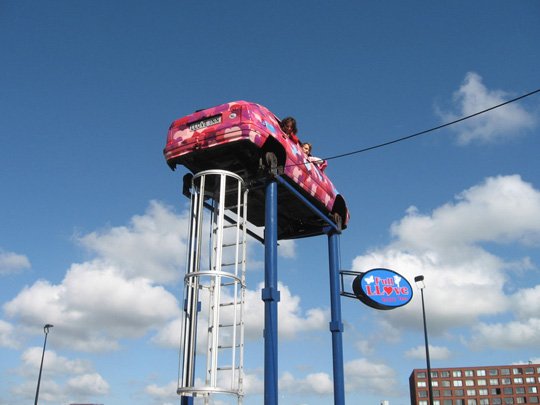 The mix between art and entertainment is an important theme in Federico d'Orazio's work. This particular artwork is about the desire for satisfaction of human needs. Besides creating an erotic and very intimate space, d'Orazio made a very exciting space as well. Just imagine making love on such heights in an Opel Kadett that might not be too stable. The city puts a lot of pressure on its citizens in their desire for success, money and social acceptance. Within this functional daily patterns, there hardly seems to be enough attention for intimacy and love. Full Llove Inn makes it possible to break out of that rhythm for a while.
Soon more about Liefde in de Stad. Watch the a video here!
—This article is chapter 5 of the Erotic City series