Robotic Sous-Chefs Will Prep Your Next Healthy Meal
In Boston, the first restaurant with robots as kitchen staff opened its doors. Serving healthy dishes in less than three minutes, the restaurant's robotic sous-chefs make healthy food more affordable.
Customers at the recently opened SPYCE restaurant order through a touch-screen, after which an ingredient delivery system collects and portions the ingredients to one of the seven cylinder-shaped induction woks. The automated woks tumble the ingredients around before tilting them into bowls. Customers get to watch the mesmerising mechanic action at the open kitchen counter. The system is capable of serving up to 200 meals per hour.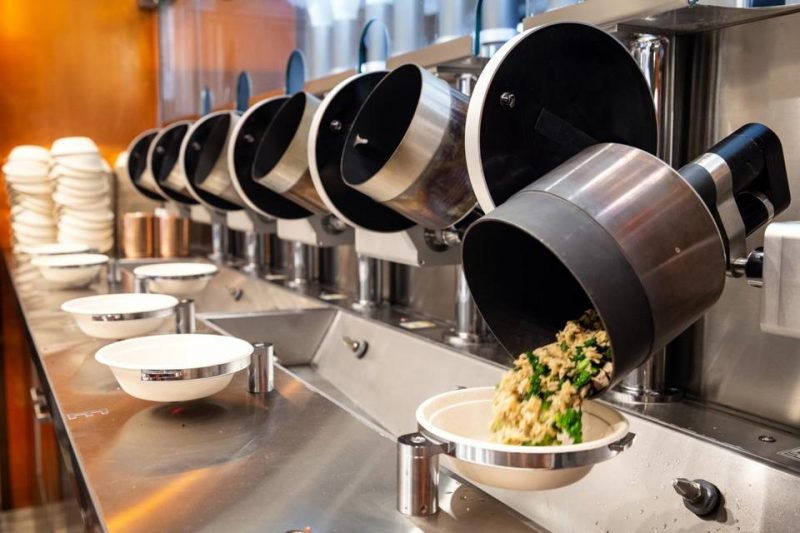 After each meal is served, the robot autonomously cleans the woks, consuming 80% less water compared to the average dishwasher. It also monitors cooking, refrigeration and water temperatures, making it a breeze to follow sanitation standards. However, the restaurant isn't completely autonomous.
Although the majority of the cooking process is carried out by the robot, it is the human garnisher who makes it pretty. Four students developed the technology as an effort to offer wholesome foods at an affordable price. Their slogan: "Culinary excellence elevated by technology" portrays a future where people focus on the aesthetics, while machines carry out the repetitive work.
As technologies progress in the future, many fear that more and more manual labor will be delegated to machines. While it is impossible to predict how many professions will be replaced, this change could encourage people to shift their focus from physical activities to more creative tasks. In the chef's case, their ability to taste and conjure amazing palettes of flavor instead of working in high-pace kitchen environments could be the future of their profession.
Nevertheless, the biggest influence of robotic kitchens would be the reduction of costs for the end consumer. Nutritious foods like these bowls could become more affordable and available for a wider population. In cities, they could cater to the hectic lifestyle of people who don't necessarily have the time to cook, or to those who do not have the money to eat out in a restaurant otherwise. In more rural areas, they could offer healthy food choices that could not otherwise be sustained by the local inhabitants. Automation is already been used to alleviate problems in smaller cities by offering a variety of different vending machines.