How the Metaverse Will Fundamentally Change the Workplace
Work is one of the most invested areas of development for metaverse applications. Major companies are working to develop their own virtual workspaces, making the future of work increasingly digitally immersive.
The Rise of True Hybrid Working
Among the most renowned tech companies, Microsoft and Meta (ex-Facebook) have invested massively in metaverse technologies in the field of work and business development. Through virtual meeting platforms, digital experiences, mixed reality worlds and new ways of interacting with colleagues and teams, companies are looking for a hybrid way of functioning.
The COVID-19 pandemic has had a huge impact on how we work and how we see workplaces. In many countries, remote working has become the norm for several months now, and this has not been easy for all employees. With many companies working in a hybrid way, dividing time between remote and physical work, many have turned to innovative technologies that allow them to keep in touch with their employees at all times, no matter where they work.
The now famous platforms Zoom or Microsoft Teams have made their appearance in our daily lives by normalising online video calls for work meetings. Microsoft now wants to exploit this area further with its platform Mesh, which creates virtual workplaces in 3D. Based on mixed-reality technology, Mesh links elements of the virtual world with physical features of employees' environments, creating a hybrid world. This is only compounded by the introduction of holograms. Meta incorporates its new Workrooms into the Horizon Worlds universe, allowing users and players to benefit from multiple uses of its metaverse.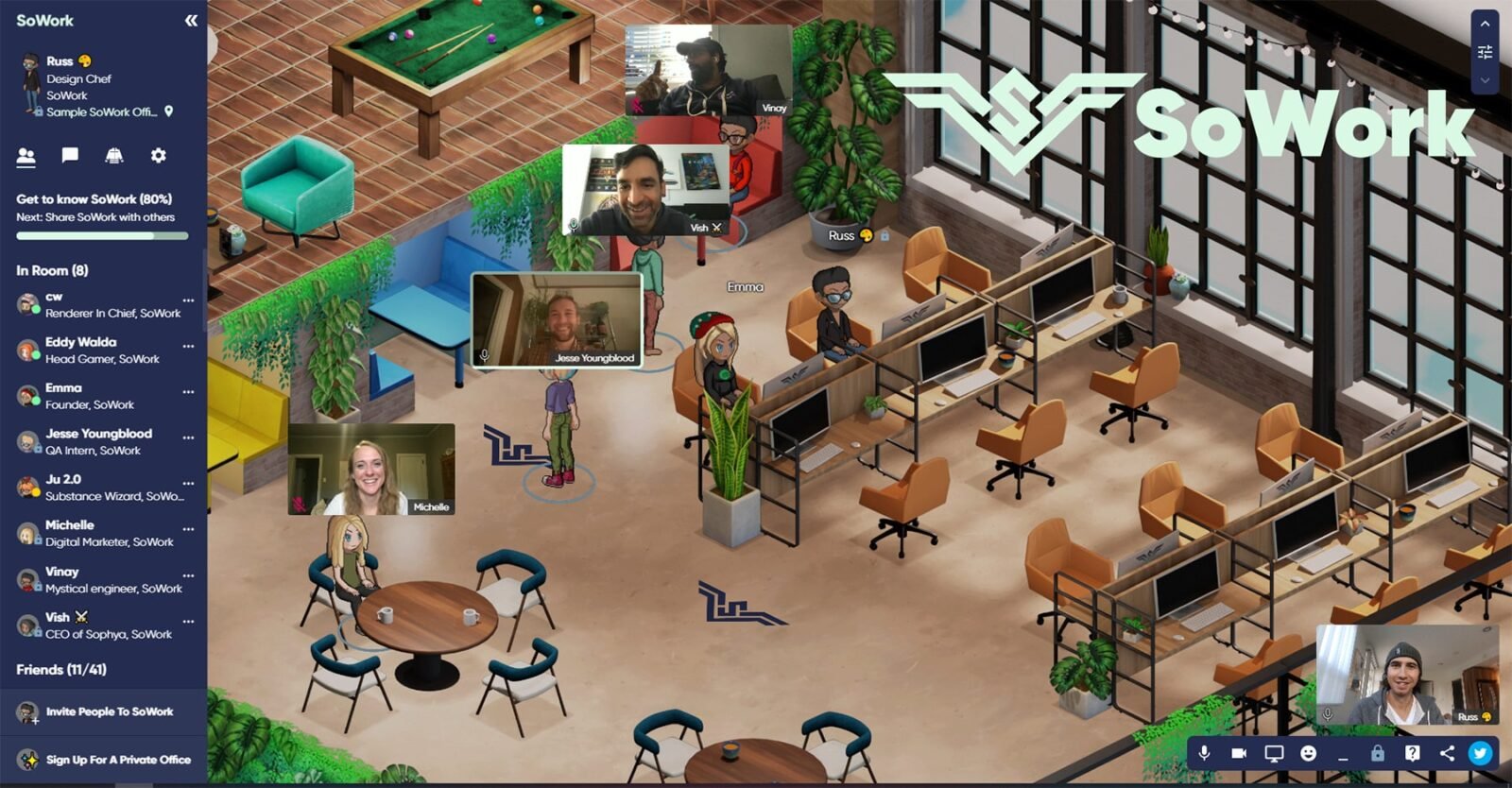 A Digital Twin Office
SoWork is one of the most representative initiatives in the field of innovation. It can be defined as a metaverse coworking ecosystem, enabling companies to replicate their office spaces online. All these platforms have one important aspect in common: they are inspired by the gaming world. Employees use avatars to represent them in the virtual world and teamwork is presented as a multiplayer mode. The office spaces created can reproduce the spontaneity of social interaction in the physical world, which was lacking in the standard video conversations that characterised remote life.
When Virtual and Real Become Indistinguishable
One project in particular catches our attention: Tonari, a Japanese company working to create a "door between offices", placing large screens in offices that allow people to collaborate virtually in a way that is almost indistinguishable from real life. As the company grows, those interactive screens will be able to connect offices around the world. It is innovations like these that will enable truly hybrid multinational companies in the future.