How Rural Traditions Inspire Sustainability in Hanoi
The VAC-Library project brings rural Vietnamese traditions to the city to make urban living more sustainable, and to create a perfect environment for kids' leisure and education.
VAC stands for the Vietnamese words vườn (garden), ao (pond) and chuồng (cage) that reflect the traditional combination of horticulture (gardening), aquaculture and animal husbandry in Vietnam. VAC has been the basis of rural lifestyles, but it is now used as the building blocks for sustainable living in the city.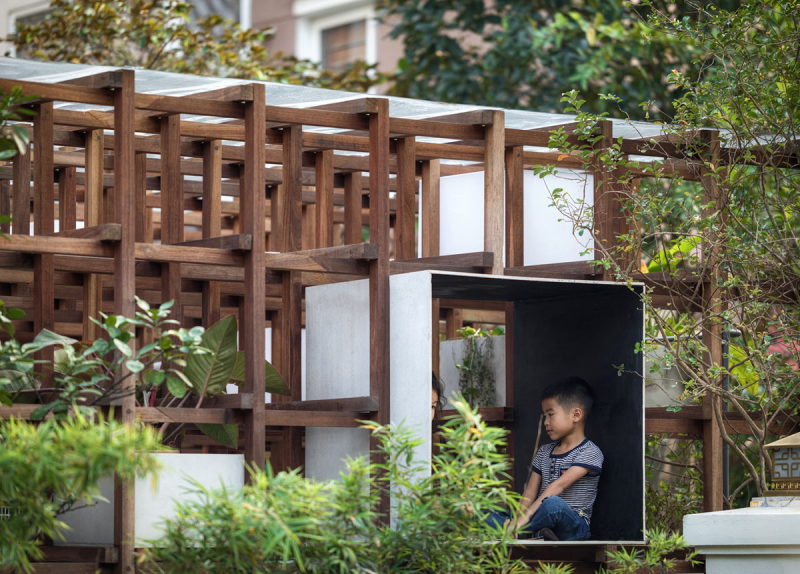 Farming Architects successfully included elements of horticulture, aquaculture and animal husbandry in their urban open library project. As these elements thrive out in the open, the library is set in an outdoor space to effectively use all the available energy from land, air, water, and solar energy resources.
Although all of Farming Architects' projects are designed to effectively use natural resources and encourage the variety of different types of plants and animals in the urban environment, Koi Cafe in Hanoi was their first project that used VAC as a lead approach. It was a key ambition to re-designing urban space into a completely self-sustaining system.
At the core of VAC design is an aquaponic system. By combining the raising of aquatic animals with cultivating plants, it allows the circulating water from the fish pond to provide nutrients to plants. In the library, the scheme is supported by pumps that help to supply the water to the vegetables and then filter back to the pond. Similarly to electricity for lighting, the pumps get their energy from solar panels.
The project also doesn't lack the community engagement variable either. Children from the area and elsewhere can use the library not just to read books and learn about the eco-living, but also to be part of it by playing with the customizable structure. The VAC-Library introduces kids from the city to nature. They learn that Koi fish are not only pets, but also a part of a bigger natural cycle along with chickens and plants, which are all present in this unique, outdoor library ecosystem.
With the notion of rural gentrification on the rise, and people moving away from the crowded, polluted city centers to calm, green rural areas, this library has a contrary effect. Bringing rural traditional practices from the countryside to the city in order to make life within it more sustainable seems to be a new important notion, as the awareness and need for a balanced, greener living rises in urban areas.