How a Pop-Up Pizzeria Became a Driving Force Behind Socio-Cultural Revitalisation in Leipzig
Bella Grünau combines gastronomy with resident co-production to breathe new life into a post-war housing estate in Leipzig, Germany.
Leipzig's Grünau housing estate was built between 1976 and 1987, in the city's largest district. After the fall of the Soviet Union, Grünau became popular as a social hotspot. But over the years Grünau has lost its vibrancy, and the area has been suffering from population decline — there are barely half as many people living in Grünau today as there were 20 years ago. Grünau now lacks the amenities such as bars, restaurants and cultural institutions, that the inner city of Leipzig has to offer.
Bella Grünau was launched as an exciting initiative to bring back the area's lost vibrancy. The initiative was founded by Kollektiv Plus X and Fonds Soziokultur and was made possible by the help and partnership of the Villa Leipzig and the KOMM-Haus. Bella Grünau's approach begins with food as the focal point for socio-cultural revitalisation and attracts a diverse clientele. Bella Grünau is a pop-up pizzeria where residents of all ages and backgrounds are encouraged to build their own pizza and participate in cultural activities.
The aim of this project is to revitalise unused space whilst actively involving the inhabitants of the neighbourhood. The design of Bella Grünau places emphasis on creating a space that is open and inviting, whilst at the same time creating a secure and closed ambience. The colourful scenographic elements such as movie backdrops, seating areas and stages create a sense of intimacy and shade in an organic manner. These warm features are in a high-contrast to the brutalist, regimental, grid-like planning of the surrounding apartment blocks.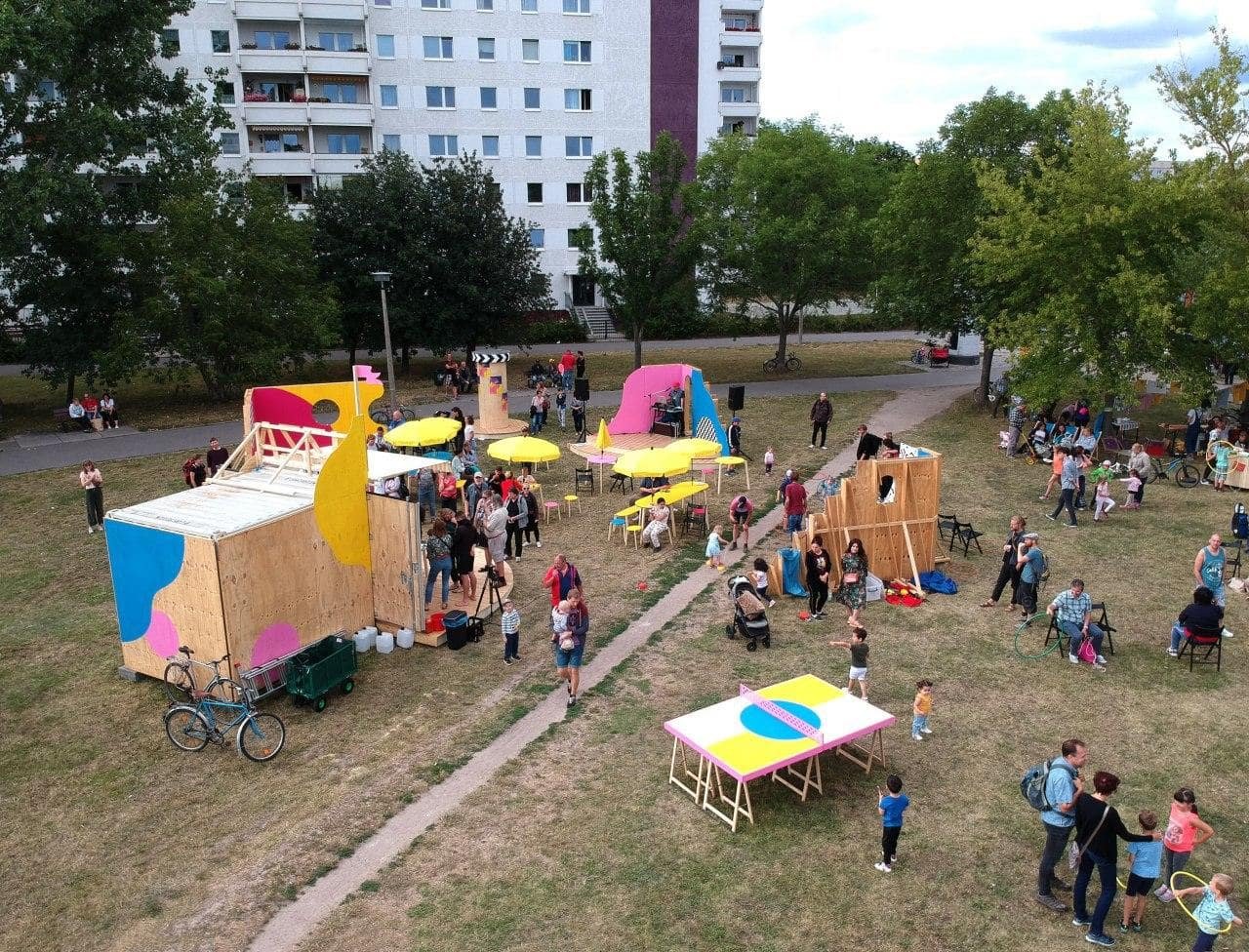 The project addresses the need for gastronomy in the area and proposes a solution through self-empowerment. Residents participate actively in the cultural and culinary development of the pizzeria. At the same time, the project format offers low-threshold access for the residents, strengthening personal ties among each other and to KOMM-Haus.