Hang out in Croatia's Industrial Heritage
A combined effort by Brett Mahon, Joonas Parviainen, Saagar Tulshan and Shreyansh Sett has led to a multi-level pavilion in Croatia where locals and tourists can gather, chill-out, and surround themselves with post-industrial vibes.
The pavilion is the outcome of Level Up​, a design and construction workshop that took place as part of the 2018 European Architecture Students' Assembly in Rijeka, Croatia. The aim of the workshop was to revamp the unused rooftop of Drvo Export and its abandoned wood storage facility in the middle of the city. This intervention is supposed to bring new life back to the harbor area of Rijka.
The outcome of the workshop was this wooden pavilion, built as an extension to the industrial storage building. The pavilion is accessible from the street and extends several levels up, all the way to a rooftop terrace. Each level is perfectly suitable for small groups of people to gather and relax. At the same time, it provides visitors with a view of what is going on at the post-industrial site. From the rooftop, visitors can enjoy a 180 degree view of the mountains in the east, the Adriatic Sea in the west and the contrasting 19th century architecture of the city in between.
The site is iconic for Rijeka, a once thriving harbor port, filled with activity. Today, the city is characterized in part by shrinking industry and the underuse of its industrial buildings. Nevertheless, the post-industrial environment has great potential for cultural growth. As Rijeka is set to become Europe's Capital of Culture in 2020, this is the perfect time to start using up all available space, instead of building from scratch. The pavilion is set to become one of the main sites during the event next year.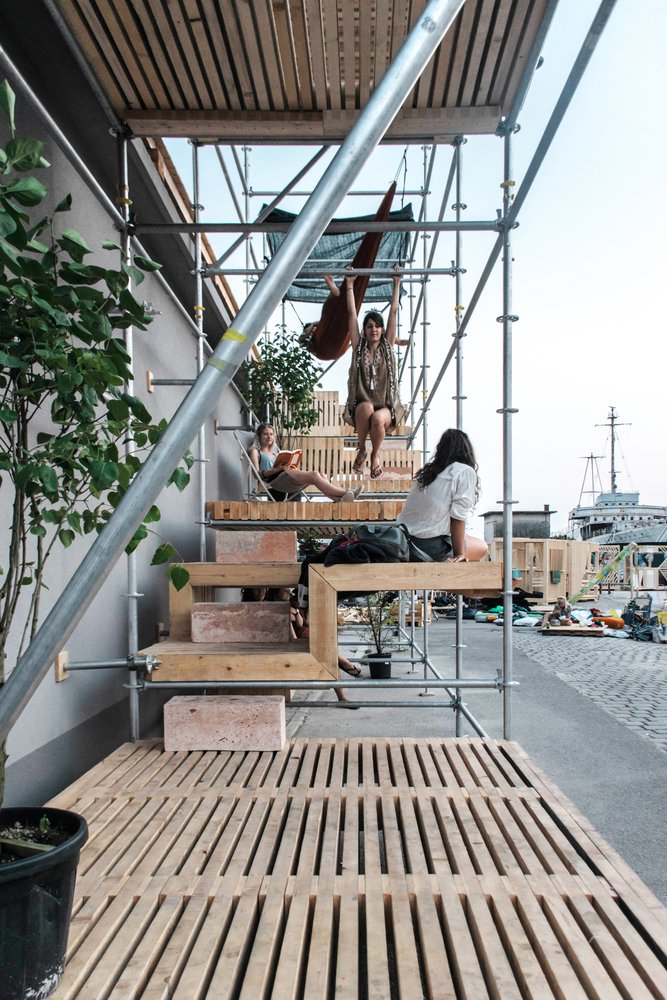 In a time when many cities are becoming crowded and struggle to expand, reclaiming underused spaces is the new go-to strategy for urban development. For Rijeka, a city that's surrounded by mountains on one side and the sea on the other side, growth is a tricky subject and reclaiming underused spaces is extremely relevant. But Rijeka is not the only place where this has happened. In New York City, art galleries are popping up under the High Line, and in Toronto, spaces beneath an elevated highway just got a new use.
Photos by Rahul Palagani