Glamping in the City With a Roof Over Your Head
Amsterdam's indoor campsite Outside Inn offers its guests the thrill of camping combined with the comfort of a hotel stay.
It was already a little dark outside by the time we arrived at the hangar of Outside Inn, located in the south of Amsterdam. We met Willem in the lobby, who warmly welcomed us into the lodgings. Even upon a first glance, the uniqueness of the Outside Inn becomes apparent. There's a trendy vintage van parked on the sidewalk in front of the building. Guests enter through a cosy lobby fitted with a coffee machine, fridge, tea spot, and even some snacks waiting for them. So far, Outside Inn sounds just like a regular city hotel, catering for a trendy clientele.
But, upon venturing through a second door, a whole new world reveals itself. The space, once used as an industrial hall, has been transformed into a 1,000-m² campsite. Covered with a soft mock lawn, and stocked full of vintage vans, beach houses, and even a gipsy wagon, the Outside Inn provides a unique camping experience with the comfort and convenience of a hotel. Outside Inn is the creative brainchild of Willem Megens, who worked tirelessly for three and a half years to create this place. Unsurprisingly, local authorities were puzzled on how to classify Outside Inn. Was it a hotel or a campsite? Which permits and licenses should be obtained for it? Willem wasn't about to let these bureaucratic obstacles stop him from realising his dreams; he opened Outside Inn to the public in June 2020.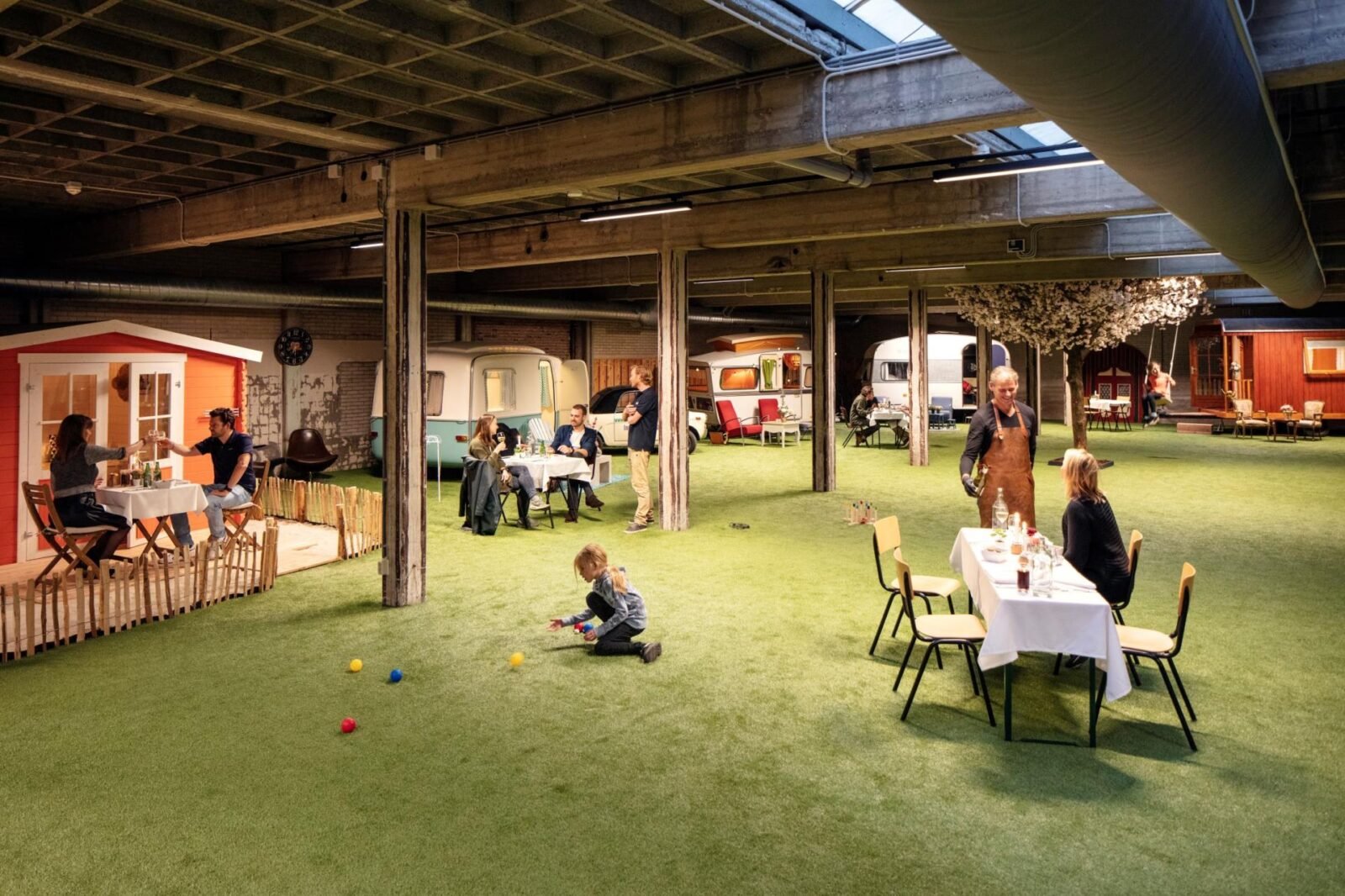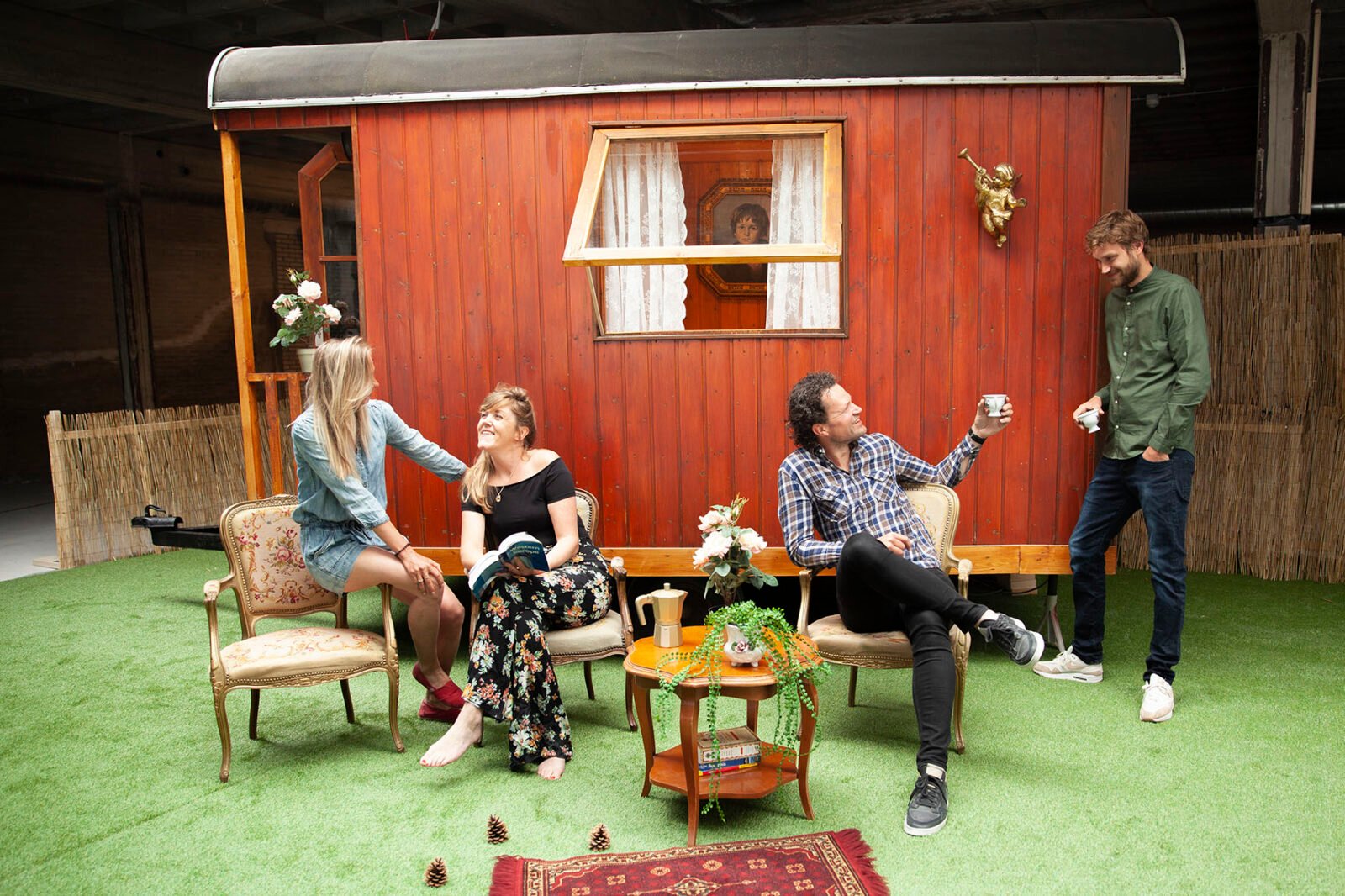 Upon exploring, we discovered a pristine campsite with a spotless floor, neat toilets and motion-based shower cubicles, built for a large number of guests. Close by there is a Heineken 0.0% lounge. This lounge is situated at an appropriate distance from the campsite, to allow campers to socialise late into the night without interrupting the other guests. Back in the camping area, we found a van of our own waiting for us. Fitted with a comfy bed, night light, and a plush sofa with a coffee table, making us feel immediately at home. Of course, as avid campers, we preferred to sit outside on the two camping seats that were provided. After settling down, we decided the time for dinner had arrived. You can't cook at Outside Inn yet, so our food hunt required a quick trip on the metro to the city centre to grab a bite to eat. The campsite is handily located just 3 minutes away from the metro station by bike.
Whilst authorities still grapple with the exact definition of Outside Inn, it's clear that guests are taking well to the experiment. Outside Inn is a great destination for tourists who love to camp, yet value comfort and convenience. The experiment combines the two separate worlds of camping, guests stay in a small van, enjoying the presence of friends and sitting outside; and the luxury hospitality of a hotel stay. Whilst the campsite becomes a home base, guests are free to explore and enjoy Amsterdam's urban life and the beauty of its nature. The city and its numerous parks, as well as the Amstel river and Amsterdam forest, are all within a 20-minute cycle ride from the campsite, or easily accessible by metro.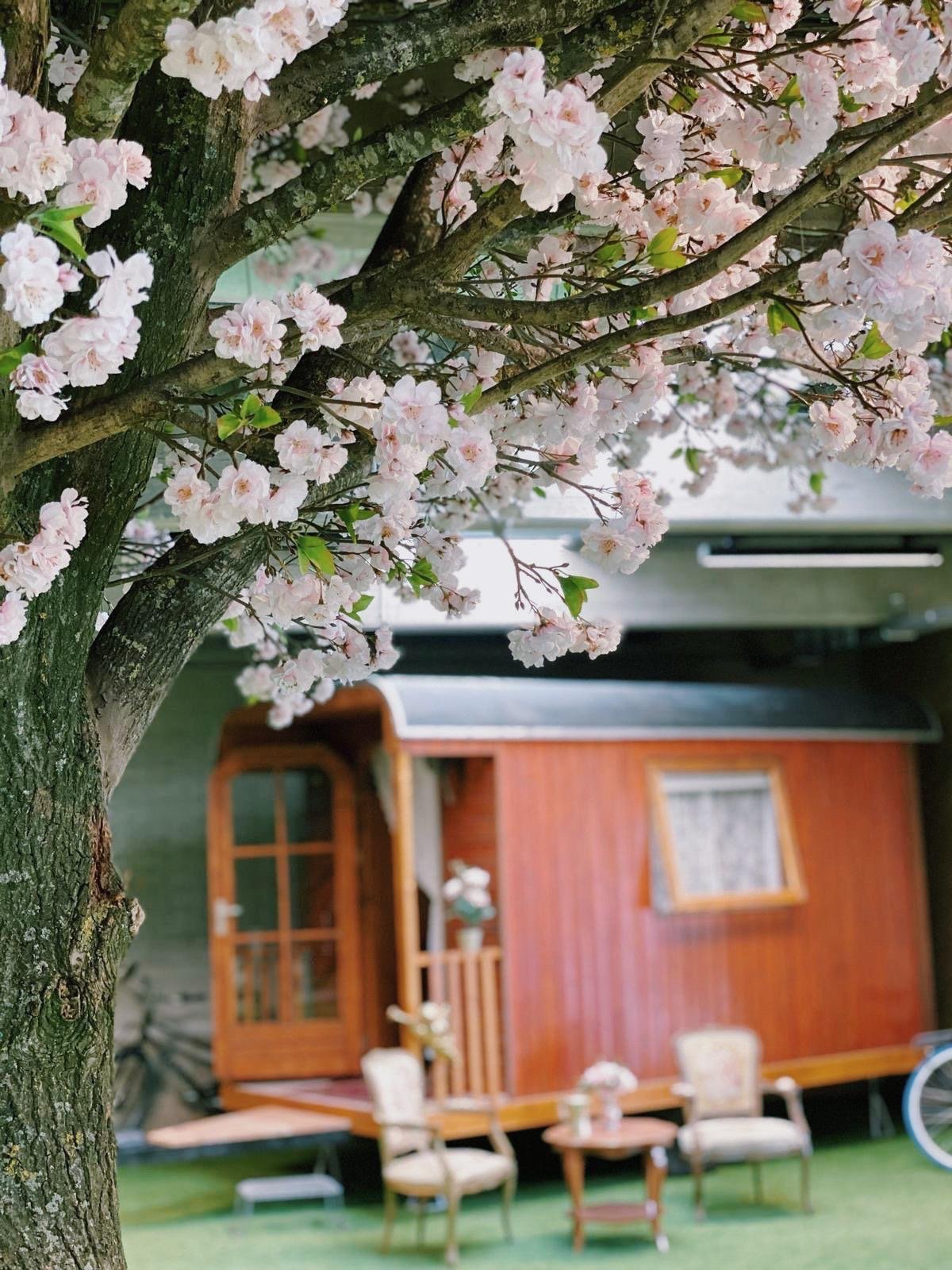 Outside Inn forms part of a trend towards rethinking urban space by launching creative experiments which combine different lifestyles to create a new and innovative concept. If you are a camper by heart, but eager to experience city life in Amsterdam — we invite you to give Outside Inn a go and tell us about your experience.