Get Your Medicine From a Robot at the Pharmacy of the Future
Studio Aisslinger has designed and opened a retro-futuristic robotic pharmacy in Berlin. In this vintage-style, soft and minimal space your medicine is handed to you by a robotic hand.
The Apotheke 'pharmacy of the future' in the Schultheiss Quartier in Berlin has been designed by local architecture Studio Aisslinger. Its interior is filled with warm, retro colors: muted browns, reds, and greens which are meant to make you feel "snug and safe". Glass walls and minimal shelve units create a unique experience of a modern interior with 50s and 60s influences. The glass lets customers peek into the laboratory in the back of the pharmacy, enhancing transparency between pharmacist and customer. The space is open and encourages unrestricted movement for customers.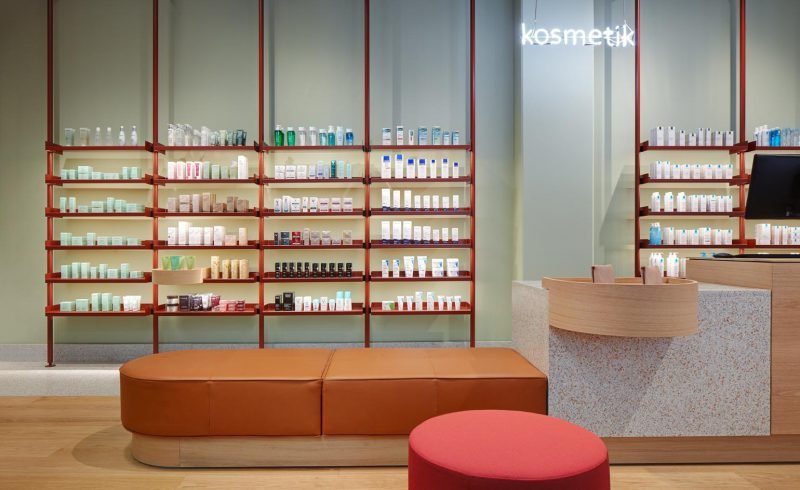 The most innovative and high-tech element of this new pharmacy is the way in which the medicine is dispensed. A rapid robot arm moves up and down the shelves to pick and deliver medicine with efficiency and precision. The products that are picked out by the robot are double-checked by a human pharmacist, to make sure everything is in order.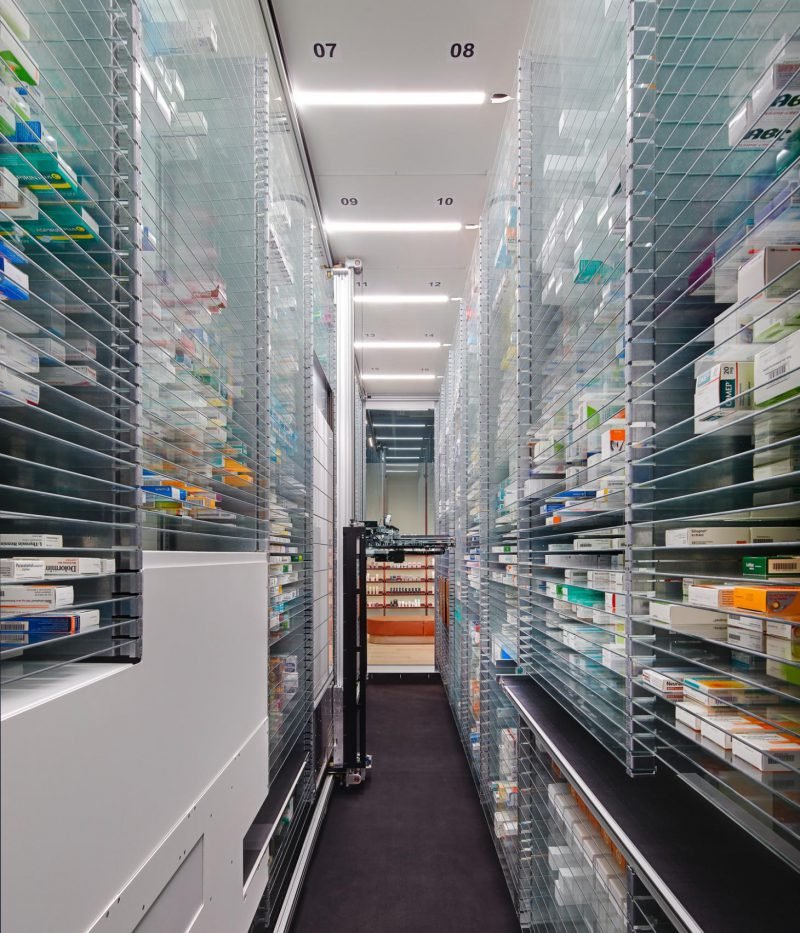 The harmonic combination of  'new' — a modern, digitalized space and 'old' — vintage style and maintained human interaction is what Studio Aisslinger aimed for in the pharmacy of the future. The architecture studio does not want to deny opportunities of digitalization of spaces and services such as pharmacies, yet they still want to keep the "possibility of true sociability" through the interior's visual quality. The results they want to achieve are "spaces of unpretentious co-existence with the most advanced technologies".
The trend of digitalization and robotic assistance in retail has been increasingly popular and visible within urban areas: robotic staff in a restaurant kitchen in Boston, multi-purpose vending machines selling milk and bread, and no-staff bodegas are popping up all over the world. This will most likely develop and expand in the future and will facilitate everyday activities but also potentially eliminate human interaction. Finding a good balance between the two is a challenge services will face in the future.