Copenhagen Harbor To Get Floating Public Spaces
In an attempt to liven up the old industrial harbor areas of Copenhagen, architect Marshall Blecher and Magnus Maarbjerg from design studio Fokstrot have introduced a small floating island to the city's waters as part of their Copenhagen Islands project: CPH-Ø1. It is imagined to be the first of many, creating a completely new type of public parks in Copenhagen — a 'parkipelago'.
CPH-Ø1 is a 20 square meter handmade wooden construction that is devised using traditional wooden boat building techniques and sustainably and locally sourced materials. A linden tree is placed in its middle by means of a reference to an uninhabited island. Floating and movable, the island is free for people to use and explore as they like, ranging from organizing barbecues to hosting a lecture series on the future of harbor cities.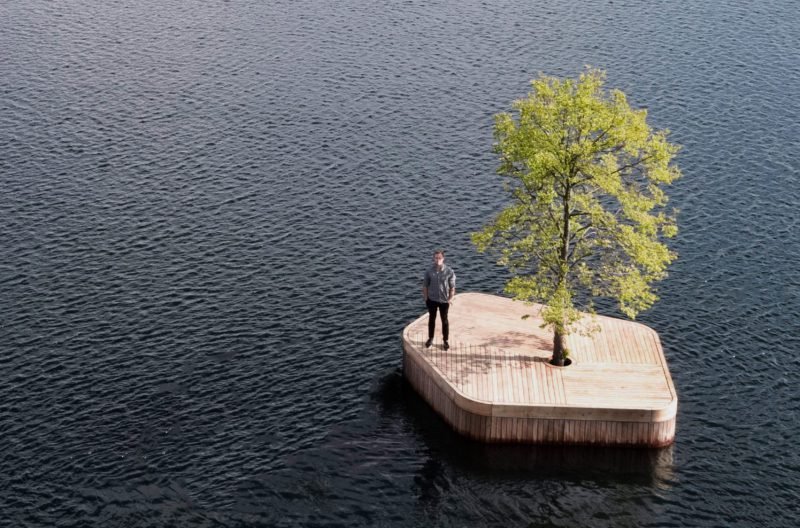 The little island is the first in a series of new experimental public spaces that Blecher and Maarbjerg want to bring to Copenhagen's harbor areas. In doing so, the architect and designer want to not only continue providing recreational opportunities in the rapidly developing harbor but also to raise awareness of the rising sea levels that urban areas will face.
There will be nine islands in total, including swimming platforms, a floating sauna island, floating gardens, floating mussel farms and a floating sail-in café, all publicly accessible to those who use the harbor. In order to enhance the islands' accessibility from the harbor side as well as to facilitate the organization of events on them throughout the year, the different isles can be moved together to form a cluster.
CPH-Ø1 will be located in different areas of the city harbor throughout 2018. Currently, it is in Slusen, and coming spring it will move to Refshaleøen. Follow the tag #copenhagenislands to stay 'on board' of the activities in Copenhagen's 'parkipelago'!